Podcast: Key takeaways from Tate Reeves' governor's race victory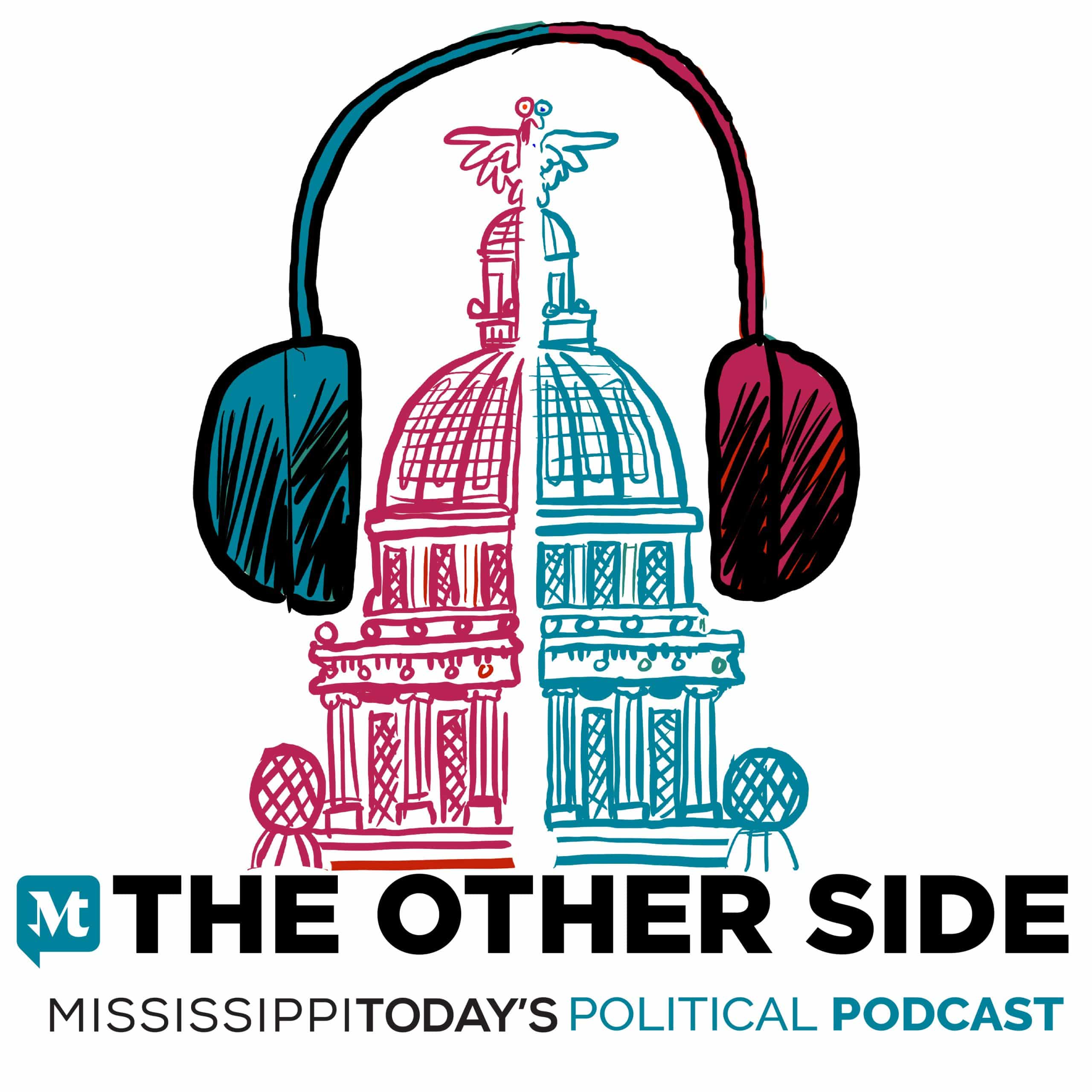 Mississippi Today's Adam Ganucheau, Bobby Harrison, Geoff Pender and Taylor Vance break down Republican Gov. Tate Reeves' election win over Democratic challenger Brandon Presley. They detail what worked for Reeves, what didn't work for Presley, and whether Mississippi Democrats can be competitive again.
This article first appeared on Mississippi Today and is republished here under a Creative Commons license.
New JSU president emphasizes accountability and financial sustainability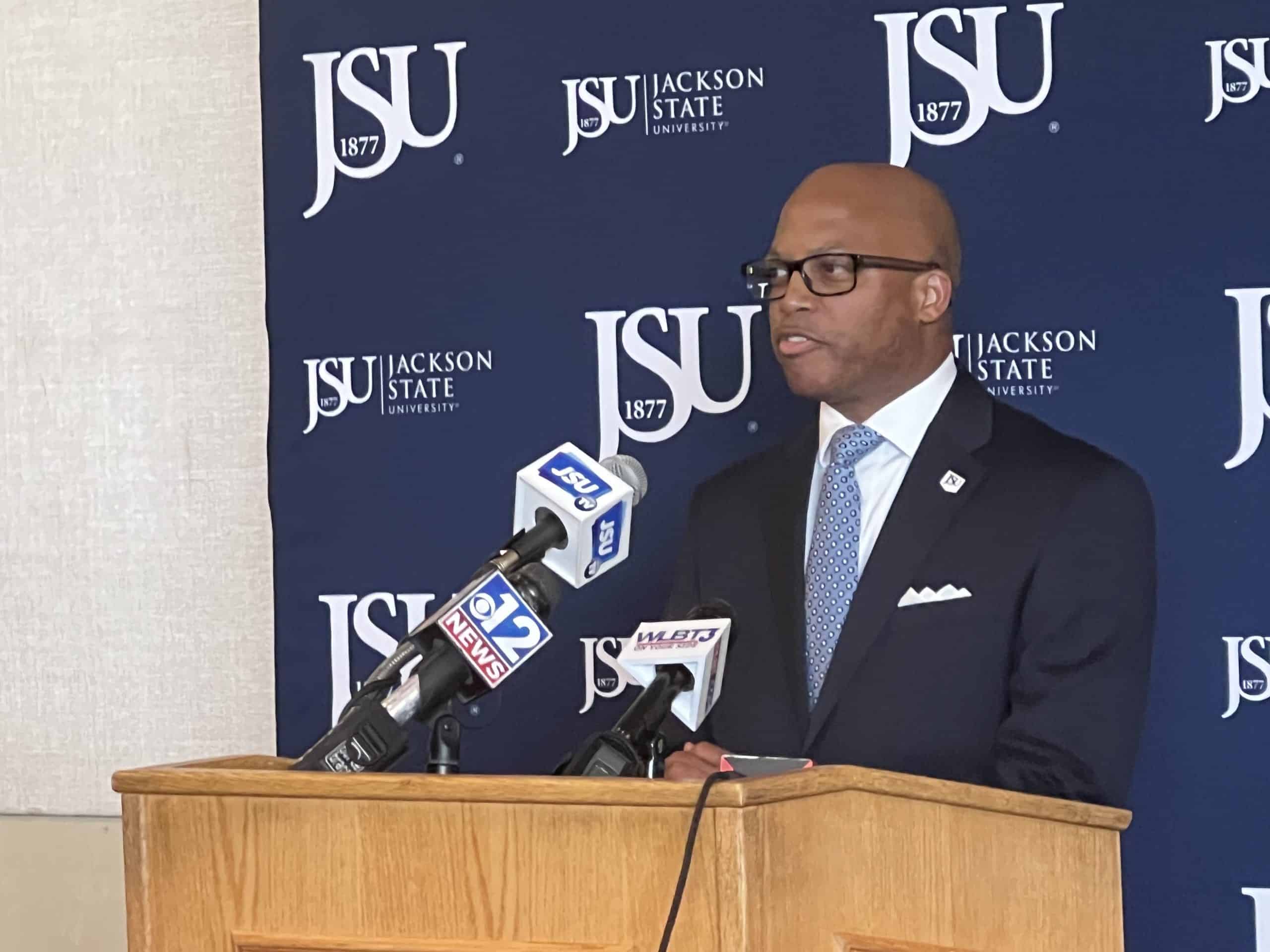 In his first press conference as Jackson State University's 13th president, Marcus Thompson pledged to improve "customer care," accountability and financial sustainability at the historically Black university, all with students as his administration's north star.
Leading Jackson State, Thompson added, is an "awesome responsibility," one he thanked the Institutions of Higher Learning Board of Trustees for placing on him. He told reporters and roughly 40 attendees, including faculty, staff and administrators, that he's spent much of his first four days as president getting to know students and the campus.
"I look forward to enhancing (the) experience for the next generation of tigers who will walk these hallowed halls," Thompson said. "And I'm proud to stand on the shoulders of every president who has come before me."
Thompson, a former deputy commissioner at IHL, takes office at a pivotal moment for Jackson State, replacing Temporary Acting President Elayne Hayes-Anthony. 
The largest HBCU in Mississippi is facing declining enrollment, seeking legislative funding for crucial capital improvements to its aging dormitories and water system, and dealing with community concerns about security in the wake of an on-campus shooting that killed a student in October. And earlier this month, faculty took a no-confidence vote in the dean of the College of Education, the second such vote on campus this year.
"I'm diving in full steam ahead," Thompson said. "I believe in exercising a shared vision for growing this institution because we all play a pivotal role in shaping how students experience this institution."
Dawn McLin, a psychology professor and the faculty senate president, said she was glad to hear Thompson will focus on accountability.
"We are hopeful he can rebuild the academic enterprise here at Jackson State University," she said in a statement. "That is a house that's burning down."
This new administration, Thompson and others emphasized, wants to look ahead. The press conference began with Alonda Thomas, the university's chief communications officer, informing reporters that Thompson would not be able to take questions about "events from past administrations."
Still, reporters asked Thompson to address the recent news that two students whom Jackson State police arrested for the on-campus shooting were released after a judge ruled there was not probable cause to hold them. Thompson said it was an ongoing investigation.
"We're unable to speak to that matter," he said.
Thompson took just seven questions, and no reporter asked about a lawsuit recently filed that alleged IHL discriminated against a female vice president at Jackson State when it hired Thomas Hudson as president in 2020. 
To repair relationships between faculty and administration, Thompson said he is assessing "all areas to make sure we are positioned to take care of our students."
"I will not speak to personnel matters, but during my tenure here – this is my fourth today – I'm working to assess leadership and cabinet positions," he said.
Next year, Thompson said he will start a president's tour to get to know guidance counselors, principals and high school students across the state. He also promised to conduct listening sessions with students, faculty and staff.
"We're prepared to meet this moment, and I'm ready to help our students become who they were meant to be," he said. "I hope each of you will support our efforts with your prayers — we need your prayers — and resources to continue to make Jackson State University the global university of our destiny."
Much of his last four days, Thompson said, have been spent talking to students, even eating the same food as them.
"They'll tell me to eat the chicken wings or eat the oranges, that kind of thing," he said.
In response to allegations that the Jackson State University Development Foundation has been using restricted dollars to cover its lack of liquidity, Thompson said he is currently working to help the foundation "move forward."
"In order for Jackson State to be successful, Jackson State University and the foundation must be successful, must have a united front and be transparent in every way," he said.
The foundation is a key source of scholarships for students.
"What I will assure you is that we will make a concerted effort to always make sure funds are utilized as they've been instructed to be utilized," Thompson said.
Asked to elaborate after the press conference, Thompson did not specify what those efforts are, saying only that he wanted donors to have confidence the foundation is properly spending their dollars.
As he left the room, Thompson shook hands and hugged attendees and members of the media.
This article first appeared on Mississippi Today and is republished here under a Creative Commons license.
Baptist, UMMC to receive $2 million each in state funds for burn centers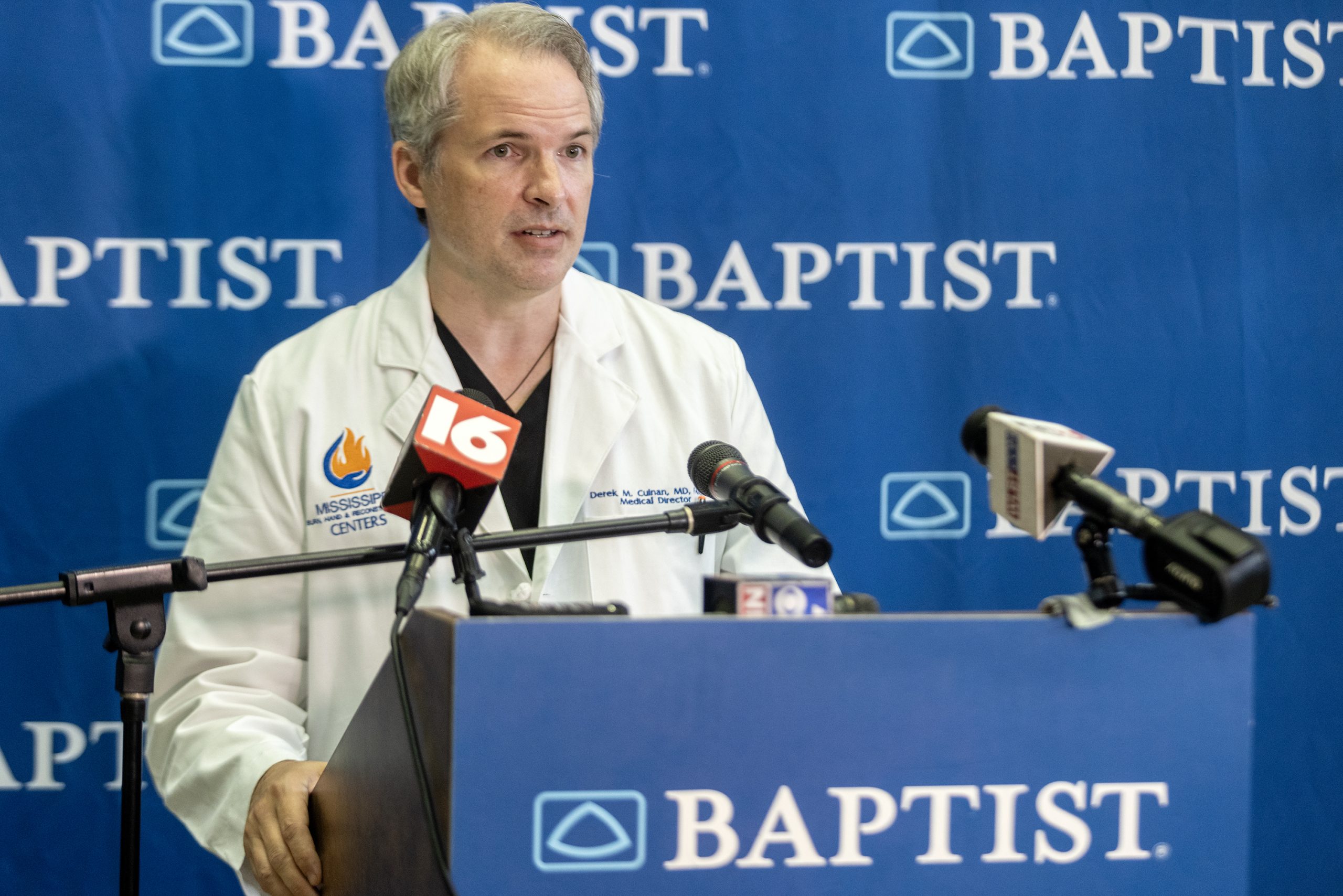 State Health Department officials decided to split $4 million in state funds to two Mississippi health care systems vying to open burn centers. 
The decision comes after months of confusion over how the money would be divided after the Legislature gave the Mississippi State Health Department the responsibility of doling out the money designated in House Bill 1626.
The burn center at Merit Health Central in Jackson – then the state's only such center – closed in October of last year. Ever since, both Mississippi Baptist Medical Center and the University of Mississippi Medical Center have been competing for the title of burn center. 
In the months following the bill's creation, though, it became clear the legislation allowed for multiple hospitals to be deemed qualified to host a burn center, and multiple hospitals could be eligible for the $4 million allotted by the Legislature intended to defray expenses.
By July, both facilities had been deemed eligible to run a burn center by the state Health Department, despite apparent gaps in their qualifications at the time, according to reviews of both health systems' sites. Both have since submitted corrective action plans to address the deficiencies. 
It hasn't been clear until now how the agency would divide the money.
The state Health Department notified the facilities of their $2 million allotment each last week, a spokesperson for the agency said. 
However, the facilities haven't gotten that money yet.
In order to receive it, they have to submit receipts for expenditures associated with creating the burn centers. Once those are approved, the facilities will be reimbursed.
Neither facility answered questions about what the money will specifically go toward, or if the money will be enough to single-handedly fund each burn center.
UMMC estimates that the cost of constructing its burn center will be $6.3 million, according to the most recent Institutions for Higher Learning board book.
"We are grateful for this support of our burn center and look forward to receiving the funding to continue our efforts to develop an unparalleled burn program for the region," said Kimberly Alexander, a spokesperson from Baptist.
This article first appeared on Mississippi Today and is republished here under a Creative Commons license.
Did you miss our previous article…
https://www.biloxinewsevents.com/?p=310156
Q&A with midwife Janice Scaggs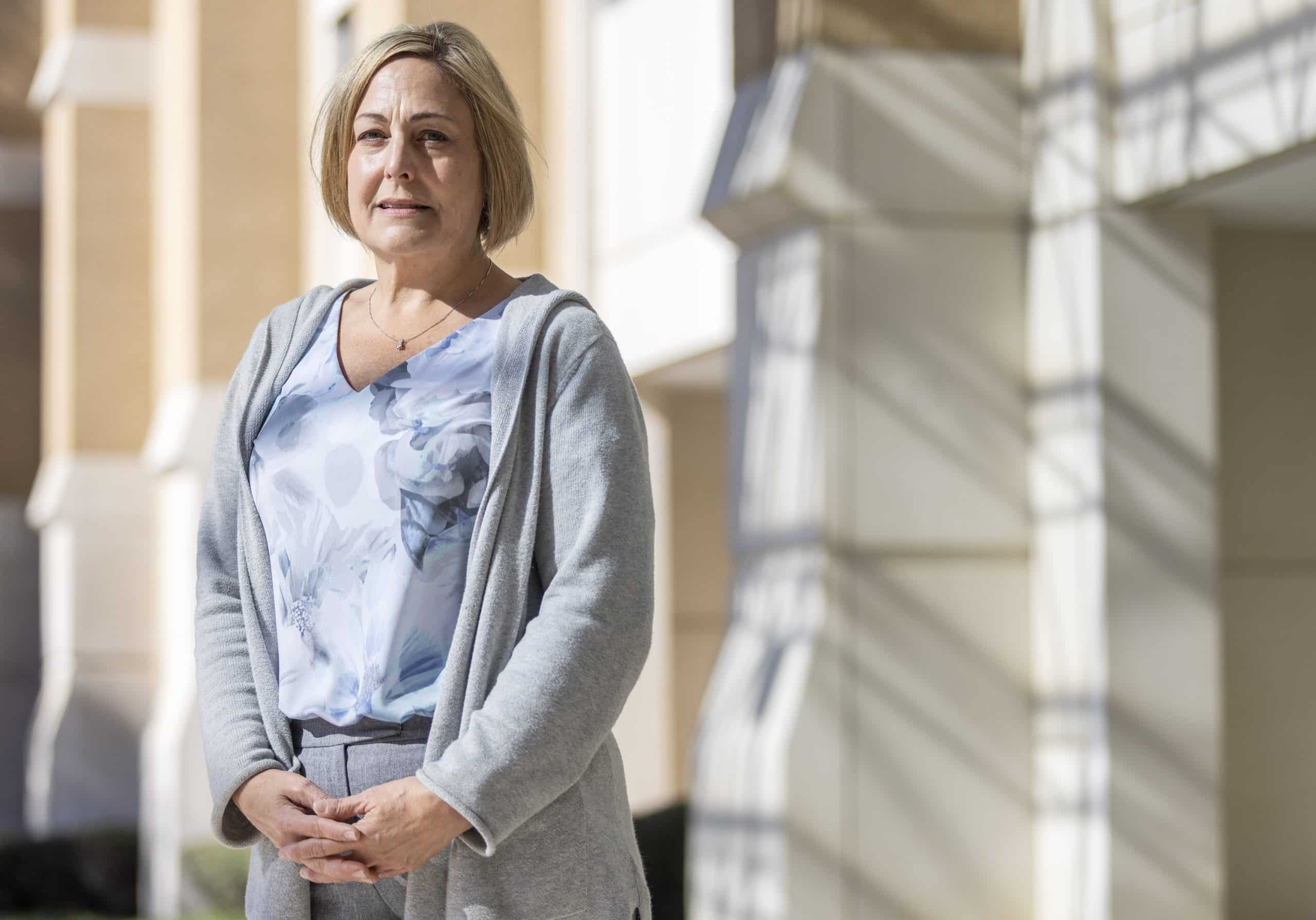 When Janice Scaggs joined the University of Mississippi Medical Center in 2020, she became part of a growing effort by the state's largest public hospital and academic medical center to reintroduce midwifery into Mississippi's maternal health care.
Certified nurse-midwives like Scaggs are educated in graduate-level midwifery programs and also hold an active registered nurse credential at the time of certification.
In the last three years, Scaggs, as the hospital's only midwife, attended a little over six percent of births at UMMC each year.
In June, a second certified nurse midwife, Kim Rickard, joined the team. As part of the nurse midwifery clinical advisory committee, she and Scaggs plan to integrate a minimum of eight new nurse midwives into UMMC hospitals and clinics to offer round-the-clock midwifery care by 2027.
Midwives advocate for autonomy and comfort over efficiency for their patients, and have been proven to decrease unnecessary interventions such as cesareans in low-risk mothers – thereby improving morbidity and mortality, as well as postpartum mental health, and lowering the overall cost per capita of care.
Doctors and OB-GYNs are experts when it comes to abnormal pregnancies, Scaggs explained, but they don't always know how to stand back and let a normal physiological birth unfold.
"Midwives … are the experts in normal, and have always been educated on a patient-centered model of care, really advocating for the patient and family, and empowering them," she said.
Unnecessary cesareans and their increased use in Black pregnancies are not only a large contributor of preventable maternal deaths, but also a large contributor of maternal health disparities. Maternal mortality and morbidity after emergency cesarean birth is nearly 5 times than after vaginal birth.
Midwives are proponents of simple, but successful, low-intervention practices during labor – such as mobility and intermittent auscultation, or a technique of listening to and counting fetal heartbeats for a short period of time during active labor.
Editor's note: This interview has been edited for clarity and length.
Mississippi Today: The term "midwife" translates to "with woman." How do you see your role as a midwife, and how does it differ from that of, say, a doctor?
Janice Scaggs: We have so many similarities that sometimes that's a really difficult question, but then on the other hand it's really not.
If you look at the midwifery-led model of care, it really focuses on the individual, on putting them at the center of care, midwives being advocates for their patients and families – they want to empower the woman.
We focus on normal and healthy, certainly recognizing the abnormal. I look at us as the experts of that normal (births), whether it's OB care, birthing, or gynecologic care, as well as family planning. I would say that that differs from our physician colleagues, because they really are focused on what the abnormal is, and they are experts when things are not going right.
MT: Tell me about the evidence around midwife-led care in reducing maternal and neonatal morbidity and mortality.
Scaggs: It's well documented in other countries where midwifery is integrated into the health care system that it improves outcomes. We now have some good evidence in the U.S. to look at those evidence-based benefits, as well, including decreasing unnecessary interventions, improving the overall outcome of health – mental health as well as physical health – and decreasing the cost of health care, as well.
We increase breastfeeding rates, decrease preterm birth rates, and then (use) that approach of not using intervention unless absolutely necessary. We end up not performing interventions that can lead to morbidity, when maybe they didn't need to be done, such as an unnecessary primary cesarean section.
MT: So, in today's world, more women give birth in hospitals, and around technology, than ever before. But that hasn't necessarily led to better outcomes. We know that because of infant and maternal mortality rates, and also high cesarean rates – across the country but particularly in Mississippi. Tell me about your non-pharmacological approach to birth and your philosophy around that.
Scaggs: I look at non-pharmacologic support as being an option that can either be done on its own or can be integrated with medical technology and pharmacologic options for women, as well. So they don't have to stand separated.
But if we're focusing on non-pharmacologic, we know from research that mobility, upright positions in the first stage of labor, decreases the length of labor, it decreases other interventions, it decreases cesarean rate. It improves comfort for moms who are trying to cope with labor without pharmacologic methods.
So, giving women permission and opportunity to move in labor – they will and they want to. If we put them in a bed and don't encourage them to move, they won't, because they feel unempowered, they don't feel like they can safely move around.
That non-pharmacologic approach to giving women options, having them understand they are safe options in most settings, and we're talking about primarily low-risk births with midwives. And then looking at things like acupressure points can be extremely helpful, using heat and cold in different aspects can be helpful. Touch – we know that there's therapeutic touch for all aspects of health care, and that includes in labor and birth.
Using things like birthing balls when women are either in the bed, when they may be tired, either with epidurals or without epidurals, for positioning, can be extremely helpful in opening the pelvis to its most optimal position so that the fetus can get into the most optimal position. Babies come out a lot easier if they are head down and looking down, in relation to mom's body, as opposed to what I would call sunny side up or coming down a little bit crooked. Changing the shape of the pelvis and having mom moving, whether it's in the bed or out of bed, does lead to better outcomes, insofar as getting baby in a good position and having a faster labor.
It als just helps mom to cope better. When you're hurt, you want to move. And if women stay in one position and don't move, then we know that they're not going to cope as well. I always talk to students and moms about how part of my job is to help you recognize when you're suffering and to help you cope and to limit suffering. We know that doing that for women in labor actually improves our mental health outcomes and in the postpartum period it decreases anxiety and depression. And we know that that is something we should all be focusing on, and we're just beginning to see more attention to that mental health aspect of the process of labor and birth. 
MT: So, midwives primarily use intermittent auscultation, as opposed to electronic fetal heart monitoring, to listen to fetal heartbeat. Can you explain the difference between the two and how EFM can increase one's chances of an unnecessary cesarean?
Scaggs: Continuous electronic fetal heart monitoring has two small, round devices – plastic devices that fit on mom's belly. One graphs on a computer system to show when (the mother) is having a contraction. The other one is a little ultrasound piece. It's not an ultrasound visually; it's for hearing. We hear the heart rate, or auscultate the heart rate. And on these monitors, you can have continuous monitoring of the fetal heart rate, as well as uterine contractions.
We introduced this thinking we were going to decrease the overall cerebral palsy rate and we didn't quite have the evidence to support that. And we have found now, 25, 35 years later, that for high-risk women, it's extremely advantageous to have continuous electronic fetal monitoring. But for low-risk women, who are in spontaneous labor, who don't have risk factors, we many times actually offer or perform interventions that aren't necessary because (the continuous electronic monitoring) really sometimes provides more information than we need to have. 
If we use intermittent auscultation, which is using either a handheld little Doppler which is another ultrasound device to hear heart tones, or even the old fashioned fetoscope that looks like the ear trumpet, that we can use to listen on mom's belly. We listen before a contraction, throughout a contraction and one minute after the contraction, and we do that every 15 minutes during labor and five minutes during active labor and every five minutes when they're pushing. And in doing that, if we hear anything abnormal we then can transition to more continuous monitoring to find out how the fetal heart is and to assure that we actually have a healthy baby. But you're not having to be strapped down and continuously monitored. It may be that if everything sounds good and normal, that you never have to utilize the continuous electronic fetal monitoring.
MT: Tell me more about that relationship between a traumatic birth and postpartum depression.
Scaggs: Well, I can't define trauma for somebody else, but if I don't ask the right questions I'm not going to know if there's been trauma.
I've had women who have come to postpartum visits, who I thought had the most beautiful birth and labor experience ever, and who seemed wonderful, and I find out a couple weeks later that there was something that caused them a trauma – whether it was terminology that was used, whether it was moving forward with a plan that maybe was not clear to them.
I've seen women have emergency cesarean sections who really needed them who show no signs of trauma, and then women who have planned cesareans who have trauma related to that. I think there are so many small things we can do to decrease trauma for women and that's going to be, number one, communicating and finding out what helps them the best, not necessarily ourselves.
And as a provider, of any kind, whether you're a midwife, a physician, a nurse, you can love your job so much and impose what you think somebody else should need. Being very self aware and self reflective, having humility of the process of labor and birth, is one of the best ways I think we can eliminate severe trauma.
MT: Do you think Mississippi will ever have a birth center? Would that be helpful here?
Scaggs: I think it would be wonderful if we could have regional freestanding birth centers that are supported by nurse-midwives with, you know, appropriate consultation, collaboration and referral to OB-GYNs and maternal-fetal medicine physicians for care as needed.
It would give us a better sense of community support in places where we don't have as good of access. It could provide prenatal care, as well as care for labor, birth and postpartum period, as well as family planning.
MT: What do you think is needed to shift the paradigm from the hospital model of birth, which relies so heavily on technology, to a model of fewer interventions for low-risk pregnancies and empowering women to give birth according to their own plan when safe?
Scaggs: That's a big question and I think it has a multifaceted answer. I think it always comes down to: what is the culture for supporting intended vaginal birth? What is the culture for putting women in the center of care? And what the relationships are between health care providers and nurses within a hospital, and support from administration for the type of training that is needed to be able to do things like intermittent auscultation. There's a specific way to do that. So there needs to be education for nurses to be able to learn that; there needs to be a better nurse to patient ratio. So, we have some workforce issues. There's also financial issues, educational issues. The bottom line is it's really difficult to change culture. It takes time.
The more we can lean into family-centered, patient-centered, care, the more we can use the evidence that we currently have around us to improve outcomes.
If Mississippi can integrate midwifery into the health care system, that's going to be the simplest answer. Who better to change the culture than midwives, who are the experts in normal, and have always been educated on a patient-centered model of care, really advocating for the patient and family, and empowering them, as well. The more we can empower women to have these choices and to understand they have these choices is really going to help.
MT: Is there anything else you'd like to add about midwifery in Mississippi?
Scaggs: I would like to say that I have been very supported within the university and from the chair of the department (Dr. Marty Tucker), to be able to grow midwifery. He's the one who initially reached out to me when I had moved to Mississippi and was trying to navigate and figure out where jobs were and not finding many. He believes in midwifery being integrated into our model of care.
And I think if we had more physicians and administrators who understood midwifery and were open to hearing about it and really looking at the evidence, that we would have more midwives in Mississippi. But it takes us partnering to do that. I need them, and I need for them to realize also that they need my profession in order to best care for women in the state.
This article first appeared on Mississippi Today and is republished here under a Creative Commons license.
Did you miss our previous article…
https://www.biloxinewsevents.com/?p=310033