Ole Miss' Caden Davis reminds us why the sport is still called FOOTball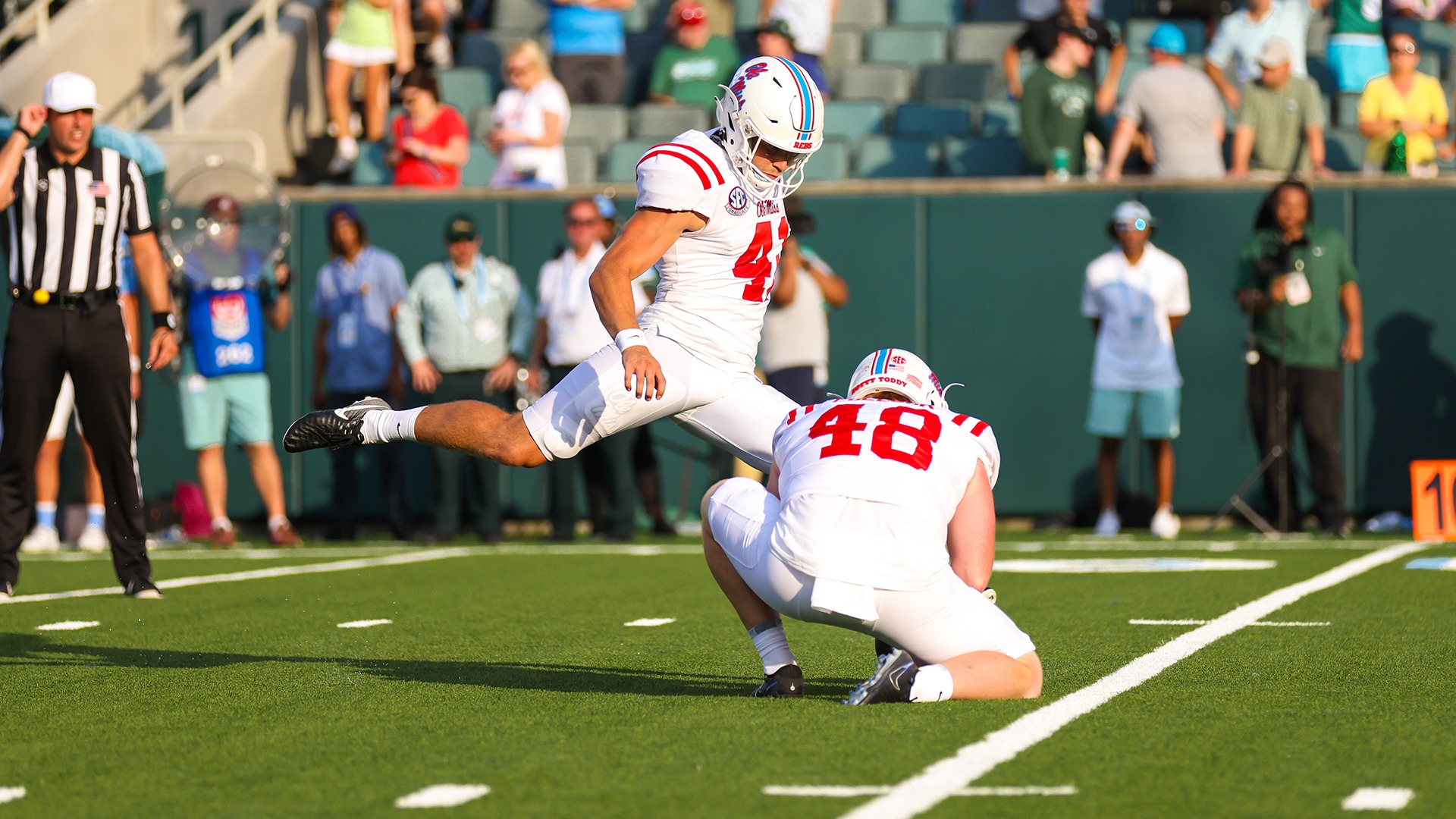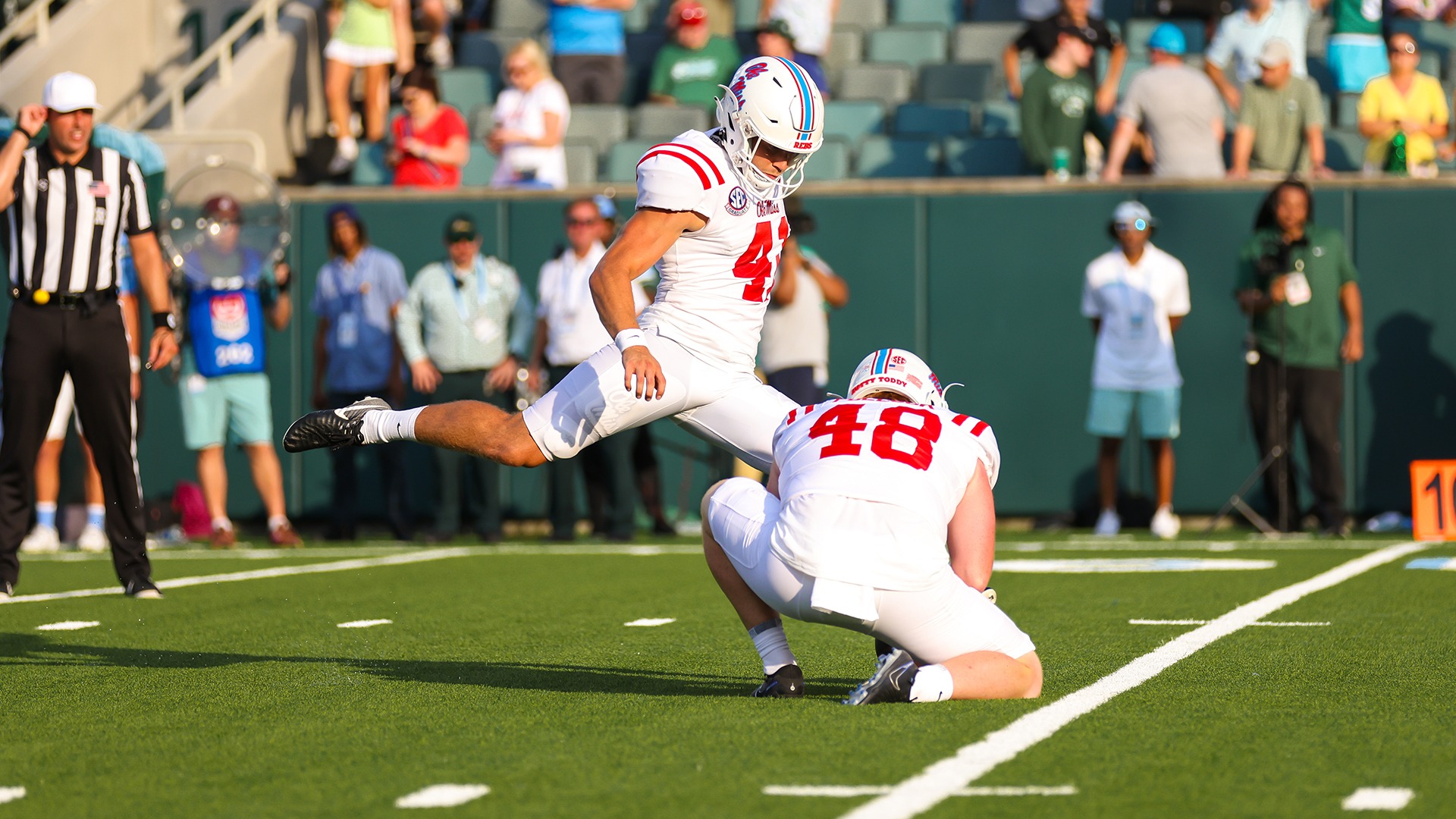 NEW ORLEANS — Nearly every game we watch leaves us with some sort of lasting impression. So here's what I will remember most about Ole Miss's 37-20 victory over Tulane, other than the fact that that the final score was absolutely no indication at all of the intense competition that took place on a steamy New Orleans afternoon:
Ole Miss kicker Caden Davis is what I will remember.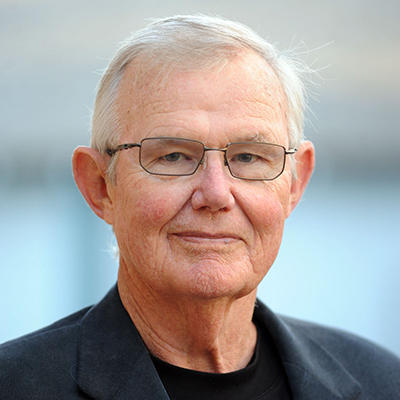 A kicker, you say?
Yes, but what a kicker…
Davis, a senior transfer from Texas A&M, showed us once again what a marvelous weapon an extraordinary kicker can be. He was, most assuredly, the Rebels' MVP.
Davis reminded this long-time observer of another college placekicker from half a century ago, the one named Ray Guy, who was known mainly as a punter but could kick a football from here to next week.
So can Davis. It wasn't just that Davis made all three of his field goals, including the game-clinching 56-yarder. It wasn't just that he made all four of his extra point kicks. And it wasn't just that he consistently kicked off through the end zones on his kickoffs. No, it was more the majestic height on all his kicks that floored me. Granted, Tulane's smallish Yulman Stadium isn't the tallest around, but Davis's kickoff soared high above the stadium.
We see line-drive kickoffs all the time that carry into — and sometimes through — the end zone, but rarely do we see kickoffs that soar seemingly into the clouds, above the stadium, and still go through the end zone. In Davis' case, at least one kickoff sailed through the goal post uprights and several rows up into the end zone seating.
Let's put it this say: If Bum Phillips were still around, he would have that football checked for helium.
Again, Guy was known primarily for his punting, but as a straight-on, toes-first kicker, he was remarkable. He, too, got amazing height on his kickoffs, which nearly always carried through the end zones. He once kicked a 61-yard field goal in a Utah snowstorm. I saw him hit 70-yard field goals in warmups.
Davis has that kind of range as well. He hit one from 67 yards Saturday in pregame warmups. He says he has hit from 76 yards in practice. The ball just sort of explodes off his foot.
Still, Lane Kiffin was faced with a perplexing decision with two minutes remaining in the game. Ole Miss led 27-20 and faced fourth and one at the Tulane 34. Kiffin sent in Davis to try a 51-yard field goal. But then Ole Miss was called for a false start, making it a 56-yard try. Kiffin left Davis in, even though a miss would have given Tulane excellent field position and plenty of time to try to tie or win the game.
As it was, Davis made the kick with room to spare and the game was essentially over. For his efforts, Davis was named the Southeastern Conference Special Teams Player of the Week.
Now then, you, as I, might have wondered: Who is this Caden Davis? Wasn't Caden Costa, sensational as a freshman, supposed to return after a year's absence to be the Rebels' kicker?
Well, Davis won the job, kicking in the preseason just as he did on Saturday. Davis couldn't get on the field for field goals at A&M, kicking behind Randy Bond, who was excellent last year for the Aggies. Interestingly, Bond has missed two of five field goals through two games this year, while Davis has made all four of his kicks for the Rebels.
A equally good example of how important a kicker can be might have come the next day in New Orleans, when the Saints began their season with a a 16-15 victory over Tennessee in what might best be described as a field goal fiesta. Rookie Blake Grupe made all three of his field goal attempts and the game's only extra point. Each of Grupe's kicks were center-cut and validated the Saints' decision to keep him and let go of seven-year veteran Will Lutz, who now kicks for ex-Saints coach Sean Payton.
While Grupe, who looks like a water boy who just dressed out, was hitting every kick for the Saints, Lutz was missing one of his two in the Broncos' opener. The Saints won at least partly because of Grupe's kicking. The Broncos lost at least partly because of Lutz's kicking.
We are only two games into a marathon season, but already we have received a prime example of why the game is called FOOTball. Kicking is still a huge part of it.
This article first appeared on Mississippi Today and is republished here under a Creative Commons license.
Auditor's proposal to defund some college majors catches fire online, but are lawmakers interested?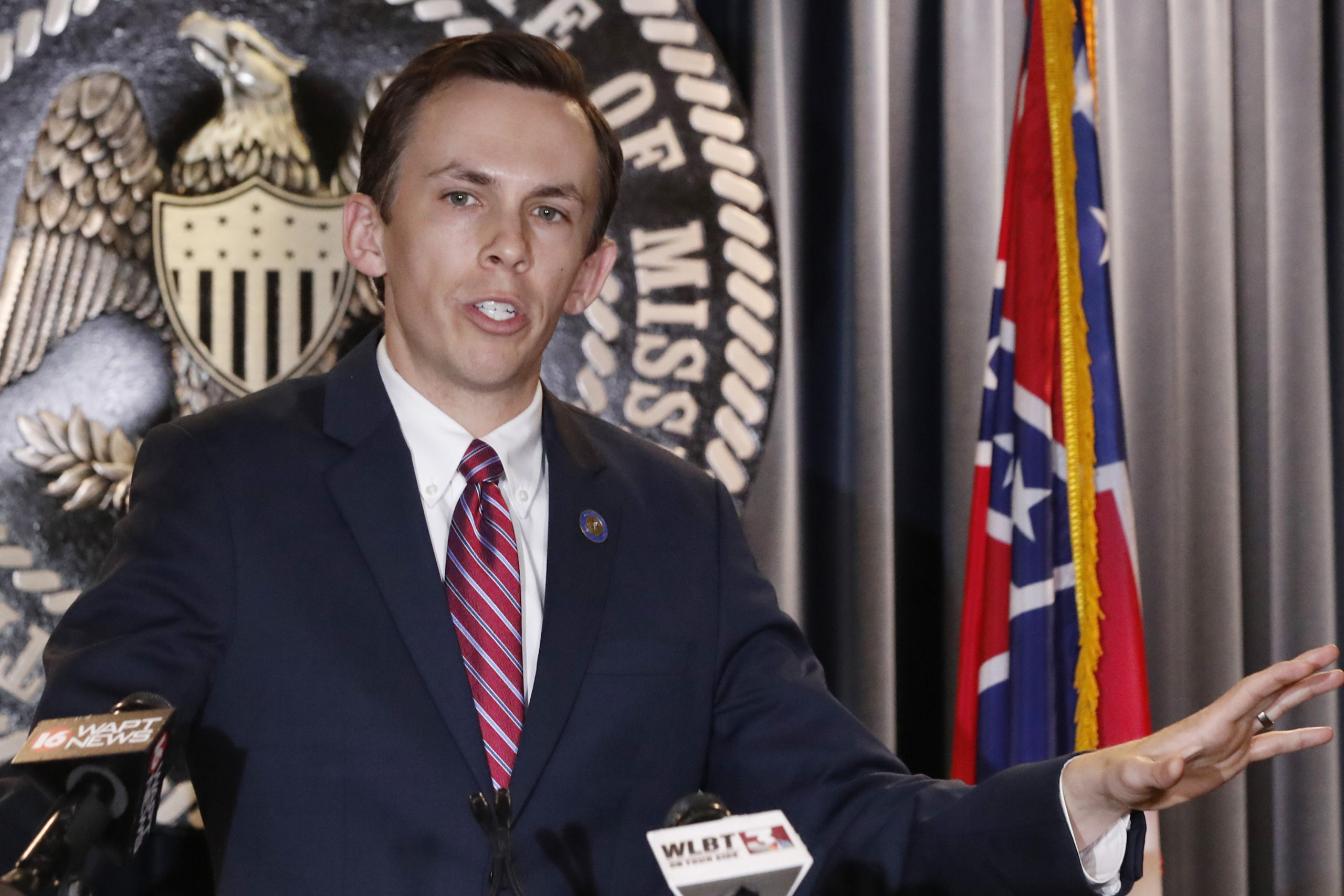 Buoyed by a series of tweets from State Auditor Shad White belittling certain liberal arts degrees as "garbage," "useless" and "indoctrination factories," a recent report from his office calls for Mississippi to change how it funds higher education by stripping public money from programs that don't support the state's economy in favor of those that do.
But in an interview Friday afternoon, two days after the report was released, White said he could not think of any lawmakers who had reached out to him about setting up a committee — the report's central recommendation — to study revamping higher education funding in Mississippi.
"I'm wracking my brain," he said. "Not a ton (have reached out) because it's just been out for two or three days."
White said he expects some inquiries but his guess is that hard copies of the report, which were prepped for a number of powerful elected officials — the governor, the lieutenant governor, the speaker of the house and members of key legislative committees — haven't arrived in the mail yet.
The state auditor's office does not have policy-making power, so for now, White is reliant on champion lawmakers to turn his recommendations into reality.
"I'm trying to think if a legislator has texted or called me," White said. "I don't recall any right offhand that specifically mentioned the report."
The eight-page report is part of a yearlong effort by the auditor's office to propose solutions to Mississippi's intractable "brain drain," the phenomenon in which college-educated people leave the state for better-paying opportunities elsewhere, in effect subsidizing the economy's of nearby states.
If Mississippi could retain just a few more graduates seeking highly paid jobs like engineering, the report said it would be a multimillion-dollar boon to the economy.
"State appropriations should focus on the degree programs our state's economy values most," the report states. "Otherwise, taxpayers will face the repercussions of an inadequate workforce and a declining population."
The brain drain is an issue that has concerned lawmakers across the political spectrum and, in recent years, led to bipartisan proposals in Mississippi to incentivize graduates to go into crucial fields, like teaching and nursing, that are experiencing dire shortages.
State agencies already have some policies that take this into account. The Institutions of Higher Learning, which oversees public universities in Mississippi, evaluates programs based on the state's workforce needs. The state's community colleges are trying to expand workforce development programs.
What White is proposing goes further. Though he is not advocating for "abolishing" certain degrees, White said it's not enough to simply let the market guide Mississippi college students to degrees that lead to higher-paying jobs — which, by and large, is what's already happening.
Rather, state government intervention is necessary to ensure taxpayers are seeing a return on investment in higher education, White said.
"What I'm suggesting is that we take a hard look at how we're spending money, and we add more money to those programs of study," he said, "by … taking those dollars away from programs of study that aren't economically beneficial to taxpayers."
Toren Ballard, an education policy analyst at Mississippi First, said it's important to understand that taxpayers are not really footing the bill for the state's universities. This year, state appropriations comprised just 21.5% of IHL's operating budget.
As state funding for higher education has plummeted since 2000, the cost of tuition has ballooned, putting the onus on Mississippians to pay for college, leading them to choose career paths that help them afford it, Ballard said. That's one reason he thinks the report's recommendation is largely unnecessary, though he hopes it could lead to more funding for higher education.
"I think we're not giving enough credit to individual student decision making here," Ballard said.
Al Rankins, the IHL commissioner, seemed to agree. In a statement, he said it would "appear more productive" to address Mississippi's brain drain by creating more career opportunities.
"University students are adults who choose their majors based on their interests and career aspirations," he said. "After graduating some choose to pursue opportunities in other states for a myriad of reasons outside of the control of our universities."
White said that when he was choosing his undergraduate major — political science and economics from the University of Mississippi — that he wished he had access to data showing what he could expect to make when he graduates.
"If I had to think it over again, I would rethink majoring in political science," he said.
So what degree programs does Mississippi's economy value most, according to the auditor? The report begins with a graph that measures value as a trade-off between the median income a graduate can expect to make and the likelihood they will stay in Mississippi.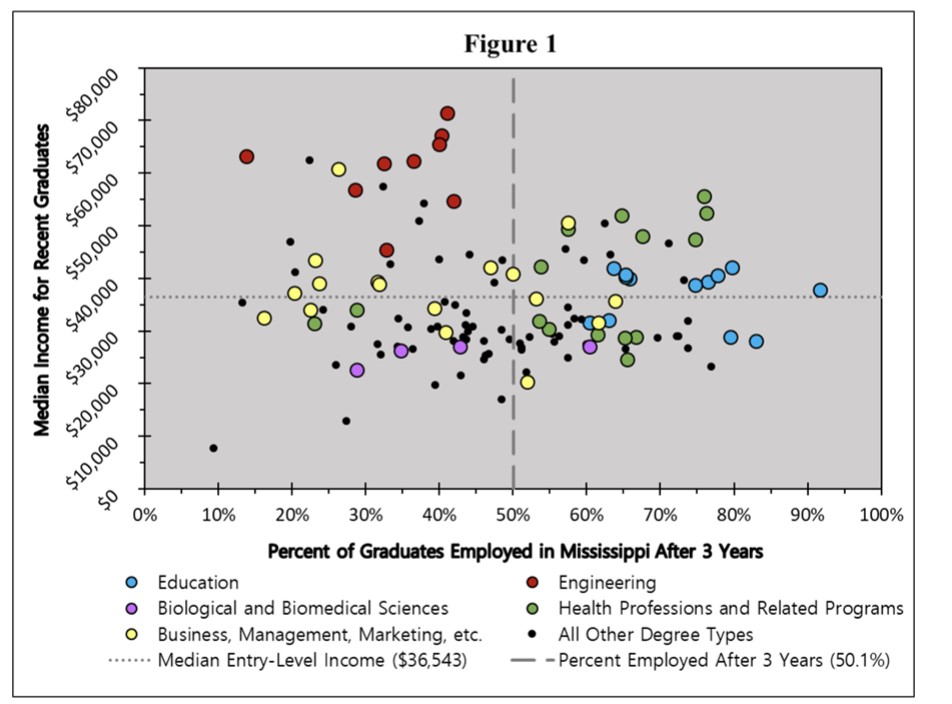 In the top-left corner of the graph are higher-paid graduates who are more likely to leave, like business and engineering degrees. The top-right corner shows higher-paid graduates who were very likely to stay, including health professions and teachers. "All other degree types" are largely in the middle.
Right now, the report says, the state funds all those degrees at the same amount, even though some degrees cost more to offer.
Ballard noted the report did not consider graduates who go directly to law school or medical school, potentially lowering the median income of majors like sociology that the auditor denigrated online.
"That's why engineering degrees look particularly good here," he said.
White said the goal of the report — and his social media posts — was not to be comprehensive but to "initiate a conversation around this question."
But that doesn't mean he's taking back anything he wrote.
"I'm defending it," he said. "I'm telling you that we have to address these ideas in a way that is plain and clear, and if you shroud it in technocratic jargon, nobody will care."
This article first appeared on Mississippi Today and is republished here under a Creative Commons license.
Did you miss our previous article…
https://www.biloxinewsevents.com/?p=290146
Gov. Tate Reeves says he'll have 'debates' with challenger Brandon Presley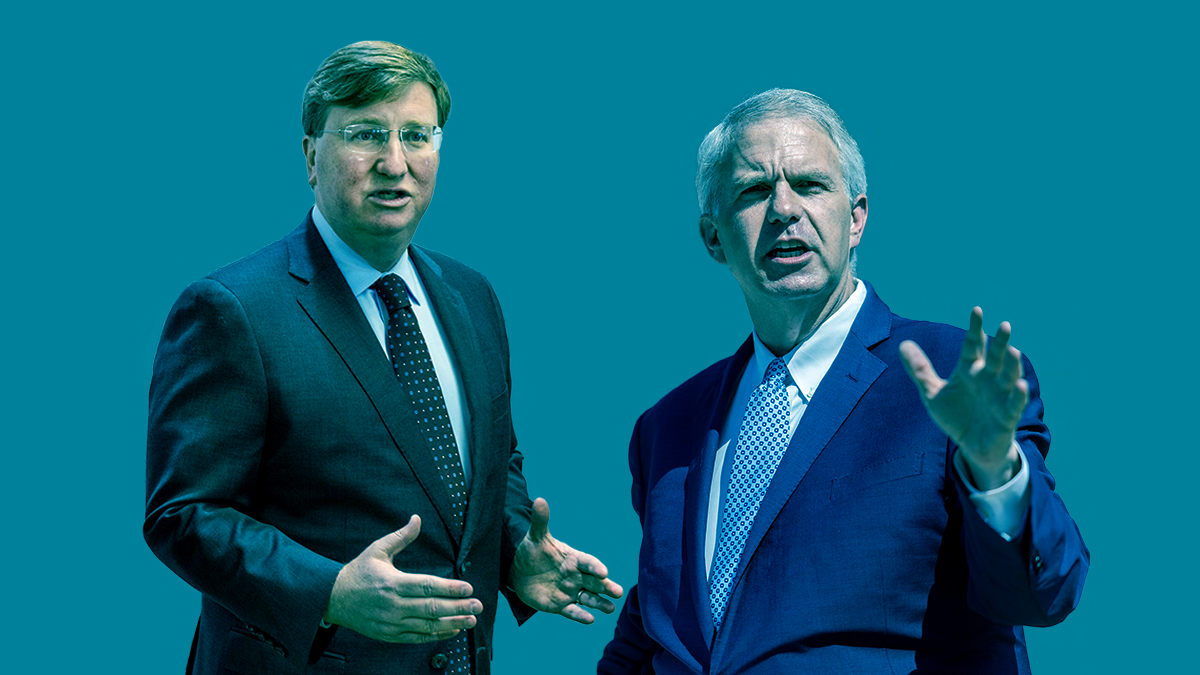 Republican Gov. Tate Reeves said he'll have debates — plural — with his Democratic challenger Brandon Presley, but those haven't been agreed to or scheduled yet as the clock ticks down to the Nov. 7 election.
"Our team is working with their team," Reeves said at a press conference on Thursday. "I have been pretty busy … I am letting the campaign team work on that. But I am sure we are going to have debates. We have always had debates."
READ MORE: Tate Reeves campaign says they're working to schedule debate with Brandon Presley
Presley has accepted debate invitations from WJTV in Jackson and stations across the state owned by Gray Television. On the campaign stump, he has accused Reeves of "hiding out" and dodging debates.
"He doesn't want to debate," Presley said last week. "… He won't even show up in his own TV commercials to talk to the people of Mississippi. So, I highly doubt he's going to have the guts to stand toe-to-toe with me in a debate. His ads that he's running are bald-faced lies, and he doesn't have the guts to stand on a stage and look me in the face and say these lies and so he won't agree to any debates."
Reeves' count on Thursday portends any debates would be spicy, should they come to fruition.
"I'll be honest with you, I look forward to getting on the stage with that individual, who seems to have a really hard time telling the truth," Reeves said. "It doesn't matter the topic, he has a pretty easy time lying … I give him credit, he's a really talented politician — that is to say he's willing to lie about anything. He's willing to stand in any room and say what he thinks they want to hear, and then he goes to the next room and says something exactly opposite based upon what he believes their views are."
Conventional wisdom is debates would be most likely to help a challenger such as Presley, trailing the incumbent in campaign cash and name recognition.
Every Mississippi gubernatorial election since at least 1987, with the exception of one, has seen candidate debates, in most cases multiple debates. In 2015, incumbent Gov. Phil Bryant did not debate his Democratic opponent Robert Gray.
This article first appeared on Mississippi Today and is republished here under a Creative Commons license.
Longtime head of Mississippi Hospital Association let go by board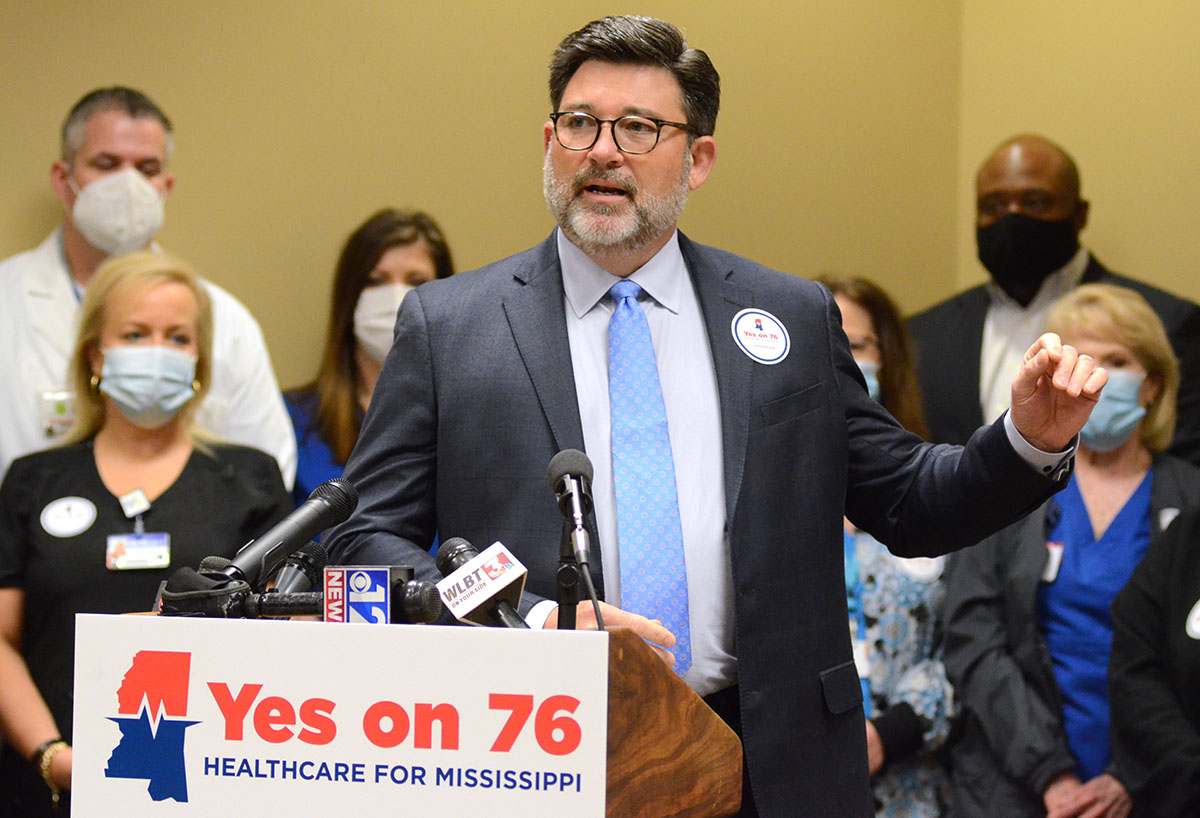 As Gov. Tate Reeves announced his plan to save Mississippi's rural hospitals, the state hospital association's longtime leader prepared for his last day at the organization.
Tim Moore, who's led the Mississippi Hospital Association for a decade, confirmed to Mississippi Today that the board fired him. His last day is today. 
"The board made a decision to execute a unilateral separation that's in my employment contract," Moore said when reached by phone. He declined to say when the decision was made but said he has known about it "for some time."
The decision comes months after a handful of hospitals cut ties with the Mississippi Hospital Association following a $250,000 donation from the group's political action committee to Reeves' opponent in the gubernatorial race, Democrat Brandon Presley.
It was the PAC's largest donation in history.
Moore, who led both the organization and its PAC, was criticized harshly in the weeks that followed the decision, though he maintained he was acting out the wishes of the association and its directors.
The hospitals that left the organization included the state's largest public hospital, the University of Mississippi Medical Center. UMMC's leaders, Dr. LouAnn Woodward, vice chancellor for health affairs and medical school dean, and Dr. Alan Jones, associate vice chancellor for clinical affairs, stood at the governor's right hand as he announced his plan at a press conference Thursday, along with almost all of the leaders of the hospitals that previously left the association.
The only health care leader on stage whose health care facility had not left the organization was Gregg Gibbes, CEO of South Central Regional Medical Center.
On stage, Reeves said the health care leaders had approached him a few months ago after the "conversation had devolved around health care in Mississippi."
Moore said the governor had a "huge impact" on the hospitals' decisions to leave the organization. He did not offer any further details.
"My concern is not for me — I'm fine," he said. "But I'm afraid we've got a lot of hospitals that are not going to get the representation that they need because people will not stand up for them, and that's going to be a problem. That's going to affect health care in the state of Mississippi.
"I wish the best for the hospital association and the membership," he added.
The Mississippi Hospital Association, a member of the American Hospital Association, represents the interests of Mississippi's hospitals and advocates for health care policy change, including Medicaid expansion. They also offer services to member hospitals, like a health information exchange program and educational courses. According to its website, the MHA comprises over 100 hospitals, health care systems and other providers, as well as over 50,000 employees.
None of those hospitals, as of today, has rejoined the organization. 
In the interim, Kim Hoover, the chief operating officer, will maintain operations of the organization, Moore said. 
This article first appeared on Mississippi Today and is republished here under a Creative Commons license.
Did you miss our previous article…
https://www.biloxinewsevents.com/?p=290059