Are Republicans about to leave Gov. Tate Reeves behind on Medicaid expansion?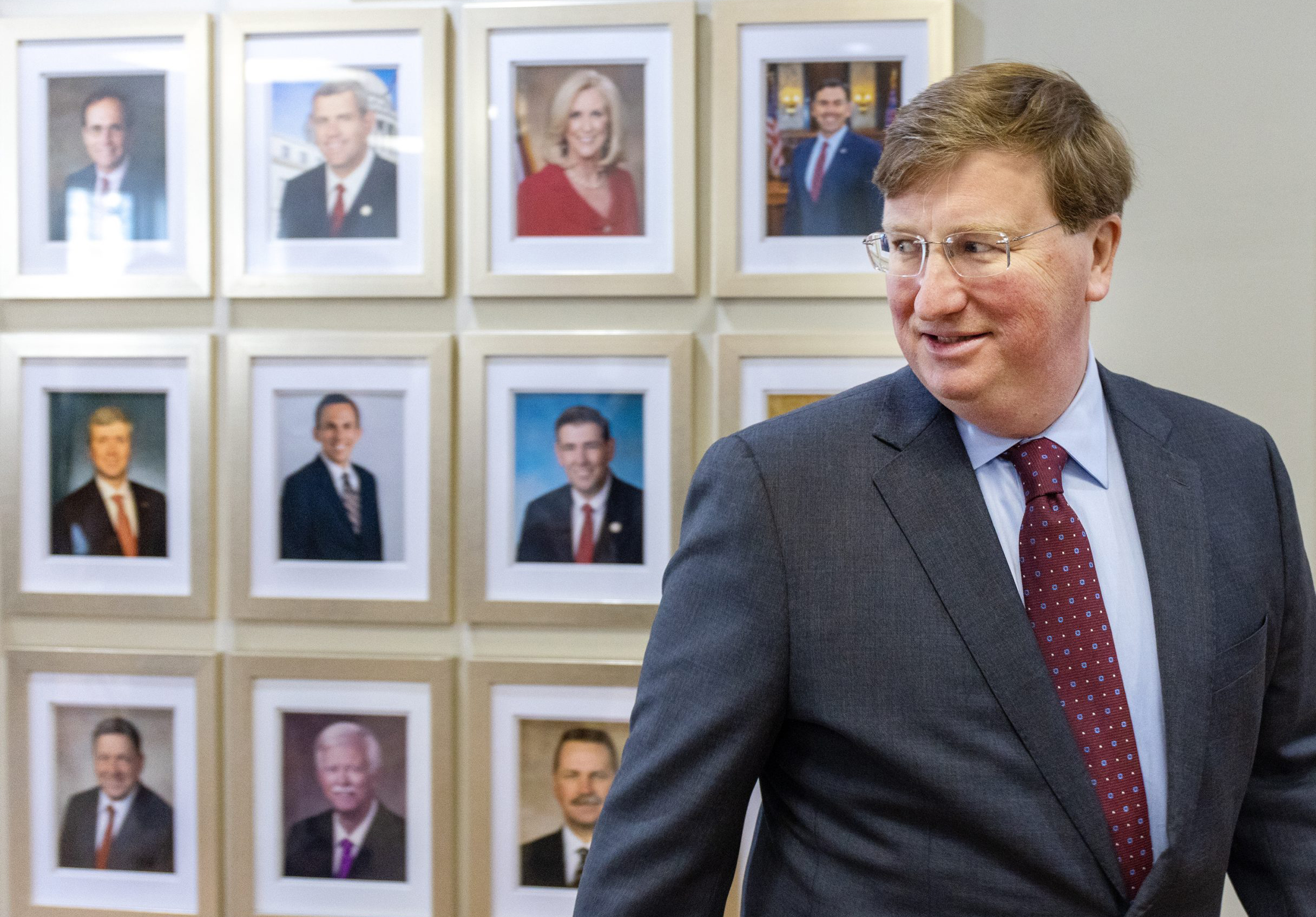 Gov. Tate Reeves, running for a second term this year, is traveling the state vowing he'll continue to block Medicaid expansion, a policy that would provide health coverage to at least 200,000 working Mississippians and bring at least $1 billion in new annual revenue to the state.
A powerful fellow Mississippi Republican Party leader appears to have had enough of his defiance.
Presumptive new Speaker of the House Jason White told Mississippi Today last week that Medicaid expansion would be on the table in the 2024 legislative session. White's remarks sparked an earth-rattling flash in a state that has resisted expansion for more than 10 years.
In just one interview, the likely new House speaker bucked his party's leader in a prolific way. But the candor of White's statement was telling in itself. He acknowledged that his own party was being rightfully criticized for not being willing to even discuss expansion. It was a brutally honest, almost self-deprecating statement, the likes of which are rarely seen in modern politics.
And it was a clear contrast in how Reeves has long discussed and handled the issue.
"I think we as Republicans have probably earned a little bit of the bad rap we get on health care in Mississippi," White said in a Thursday interview with Mississippi Today. "Part of that is that we haven't had a full-blown airing or discussion of Medicaid expansion. We've just said, 'No.'
"Now, I'm not out here on the curb pushing Medicaid expansion, but we are going to have full discussions on that and on all facets of health care in Mississippi," White said. "… Right or wrong, we have been wearing the yoke of, 'Y'all haven't even considered this or dug down into the numbers.' And that's true."
There's all sorts of political cover for any Mississippi leader to float expansion. Public polling this year suggests anywhere between 65% and 80% of Mississippians — and well over 50% of Republicans — support it. Voters broadly want Medicaid expansion, and they're letting candidates hear it.
White, for what it's worth, knows this sentiment better than anyone. The past few months, he's been coordinating political efforts to keep the House GOP supermajority intact in this November's elections. Many of his partymates are facing challenges from Democrats, who have for years advocated for Medicaid expansion and have recently coordinated a concise pro-expansion message. Several Republican candidates across the state are no doubt having a hard time justifying their party's inaction to voters.
Beyond just the politics, the facts are impossible to ignore. The federal expansion program would provide Mississippi, the poorest and unhealthiest state in America, billions in new revenue and create tens of thousands of new jobs. It would provide health care to at least 200,000 Mississippians who live in what's called the "coverage gap" — people who have jobs but do not make enough money to afford health insurance plans on their own and are not offered coverage from their employers. And it would be a major financial shot in the arm for struggling hospitals.
READ MORE: Nearly half of rural hospitals at risk of closure in Mississippi, new data shows
But Tate Reeves doesn't want it. He plays politics, calling it "Obamacare" and likening it to "welfare." When the governor gave his State of the State address earlier this year, he issued a direct appeal to lawmakers to resist it.
"Don't simply cave under the pressure of Democrats and their allies in the media who are pushing for the expansion of Obamacare, welfare, and socialized medicine," Reeves said in that speech. "You have my word that if you stand up to the left's push for endless government-run healthcare, I will stand with you."
White, who sat a few feet from the governor's podium that evening, apparently doesn't care if the governor is standing with him or not.
For the first time since the Affordable Care Act was passed, the top two leaders of the Legislature may be on the same page about having a conversation, at least, about expanding Medicaid. Lt. Gov. Delbert Hosemann, a shoo-in to be reelected for another four-year term, has expressed openness to some version of Medicaid expansion in the past. 
While there has never been an earnest debate of expansion under the Capitol dome, most GOP lawmakers have clearly been awaiting leadership from a party leader. In the 2023 legislative session, Mississippi Today spent weeks surveying lawmakers about the issue. A voting majority in the House and just shy of a voting majority in the Senate said they either supported expansion or were still undecided. Only a small handful of lawmakers in either chamber said they outright opposed it.
White, apparently, is the leader they've been waiting on. And on this issue, he may just take his fellow Republicans along with him and leave his governor behind.
READ MORE: Why so many top candidates are ignoring Mississippi's worsening hospital crisis
This article first appeared on Mississippi Today and is republished here under a Creative Commons license.
Did you miss our previous article…
https://www.biloxinewsevents.com/?p=286974
Legislators passed a bill that promised millions to hospitals. Months later, apparently only a third qualify.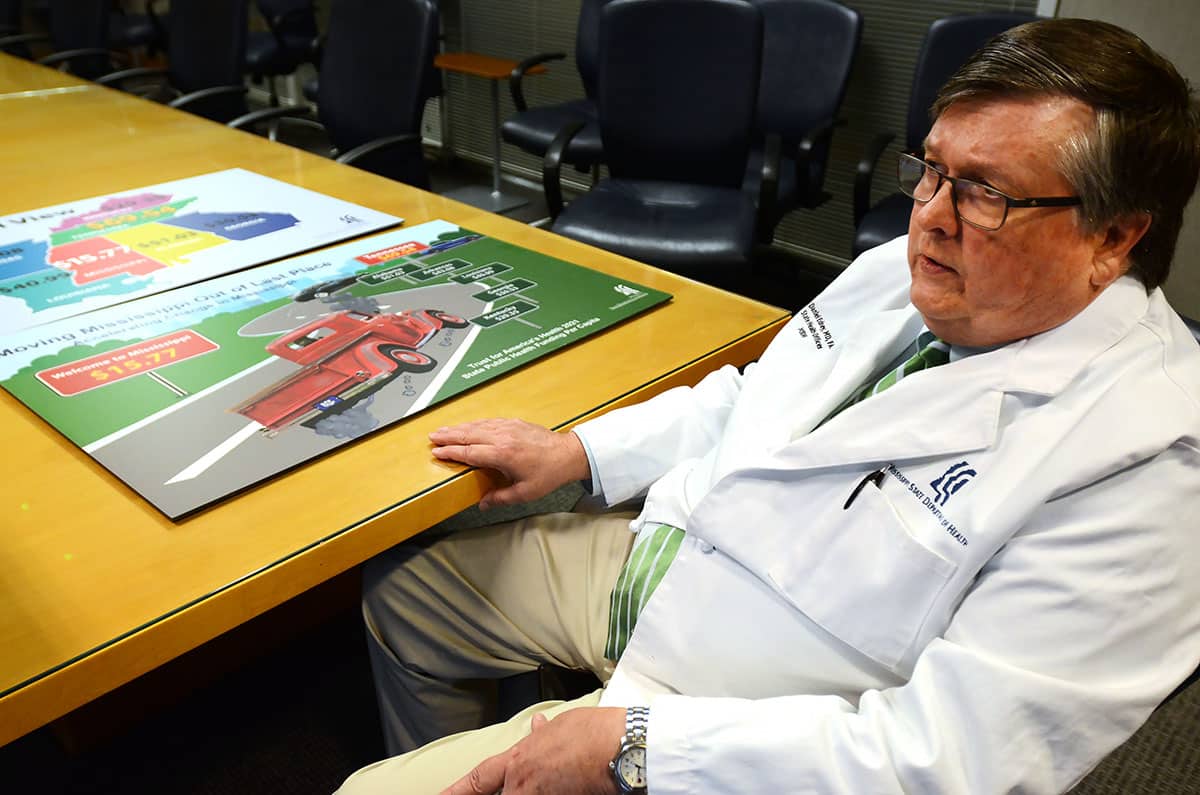 Months after the Legislature passed a law directing millions to Mississippi's struggling hospitals, not one has received that money, and far fewer than predicted will receive any money at all. 
That's because lawmakers erred in writing the statute, according to State Health Officer Dr. Daniel Edney.
Legislators in February established the Mississippi Hospital Sustainability Grant Program, which was supposed to disseminate $103 million in grant money to hospitals via the state Health Department. Despite a record state budget surplus, it was millions less than the state hospital association had asked for, but hospital leaders agreed it would help keep them afloat.
However, somewhere in the legislative process, the source of the funds was changed from the state's general fund to federal COVID-19 relief dollars, which come with regulations. Because many of the state's hospitals have already claimed some form of pandemic relief funds, those hospitals are ineligible for the money – an issue that lawmakers apparently did not consider.
"Unfortunately, you picked the wrong pot of money," Edney told legislators at a Joint Legislative Budget Committee meeting on Sept. 29.
But lawmakers are placing the blame back on the Health Department, which was awarded $700,000 to disburse the money. 
"Effectively you're cutting out two-thirds of the hospitals," Lt. Gov. Delbert Hosemann said.
"I'm not cutting out any," Edney refuted. "The program is cutting out two-thirds."
A spokesperson for the Mississippi State Health Department confirmed to Mississippi Today that 75 hospitals, about two-thirds of the state's hospitals, have applied for the money.
Edney said at the meeting that only half of those facilities will receive anything.
Rep. Trey Lamar, a Republican from Senatobia, asked for a list of hospitals eligible to receive the money. Edney said it was "at the office," before clarifying a few minutes later that he'd asked agency auditors and accountants to make an official document explaining the program and its challenges and would soon provide that to lawmakers.
When asked by Mississippi Today about the previously referenced "list," Edney would not provide it and said it was still "fluid."
"Let me be clear: Are you announcing to the public today that the hospitals, as it stands now, are not going to be awarded these funds we put in place?" Lamar asked. "Do the hospitals know this yet?"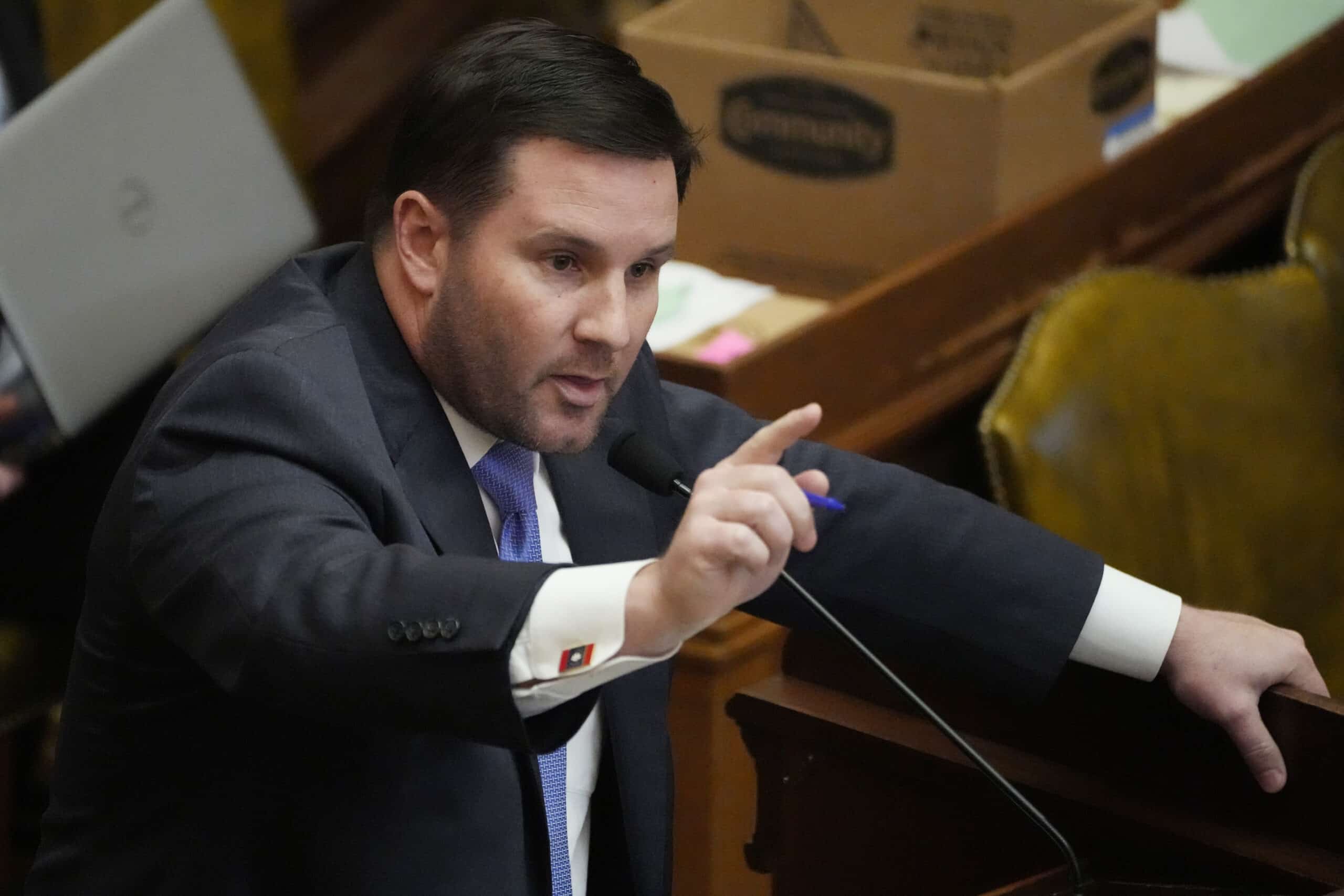 Edney replied that he has been talking to hospital CEOs "one by one."
Paul Black, the recently retired CEO of Winston Medical Center in Louisville, told Mississippi Today in May that he was disappointed in the failures of the grant program's appropriations bill.
"Most everybody knows the challenge," he said.
The challenges of the program apparently came as news to the legislators, though.
Lamar, the chairman of the powerful House committee that deals with tax policy, and Hosemann, who announced a broad plan during this year's session to help the state's failing rural hospitals that included this grant program, appeared especially frustrated.
"As recently as a month or two (after the session), I contacted your office and it was 85% (of hospitals) were gonna qualify," Hosemann said. "So this has been some administrative change that we were not aware of either during the session or shortly thereafter."
Lamar, too, questioned why these issues were coming up months after the program's inception. The governor signed the bill in April.
"There was no secret what we were working on," he said.
Edney maintained that the Health Department brought up concerns about the source of the money during the legislative process.
"Believe me, Mr. Chairman, I'm extremely frustrated with this," Edney told Lamar.
Edney gave the lawmakers a few options.
They could wait to distribute funds after fixing the program when the 2024 Legislative session starts in January, or they could activate the program now and send out the money to the roughly 38 hospitals that qualify. Edney also claimed there was a way to get the federal American Rescue Plan Act funds to all hospitals, but the current statute would have to be changed to do that.
Hosemann previously told Mississippi Today that he would support legislation at the beginning of the next session to make up the difference between what hospitals were supposed to get and what they actually got from the program.
Edney's recommendation at the meeting was to dole out the money to the hospitals that are eligible because of the state's dire health crisis. Those hospitals report losses upwards of half a billion dollars, he said.
One report puts nearly half of the state's rural hospitals at risk of closure. At least one hospital has already closed this year, and several have applied for a federal designation that would slash services in order for more money. He said many more hospitals are reducing the services they offer to cut costs.
But Edney was adamant that he could not make the final call.
"Y'all need to make that decision," he said. "I need to be given direction.
"The heartburn for me is I know activating the program as it stands is not what y'all intended," Edney told the committee, before Hosemann cut him off, asking for data from the agency to make an informed decision about what to do next.
Edney still hasn't been told what to do, he said in an interview with Mississippi Today on Tuesday.
"I know that (the Legislature's) desire is to get funding to hospitals the quickest way that they can," he said. "The options are before them and they'll decide. They're still evaluating information being given."
This article first appeared on Mississippi Today and is republished here under a Creative Commons license.
Secretary of state candidates outline platforms at forum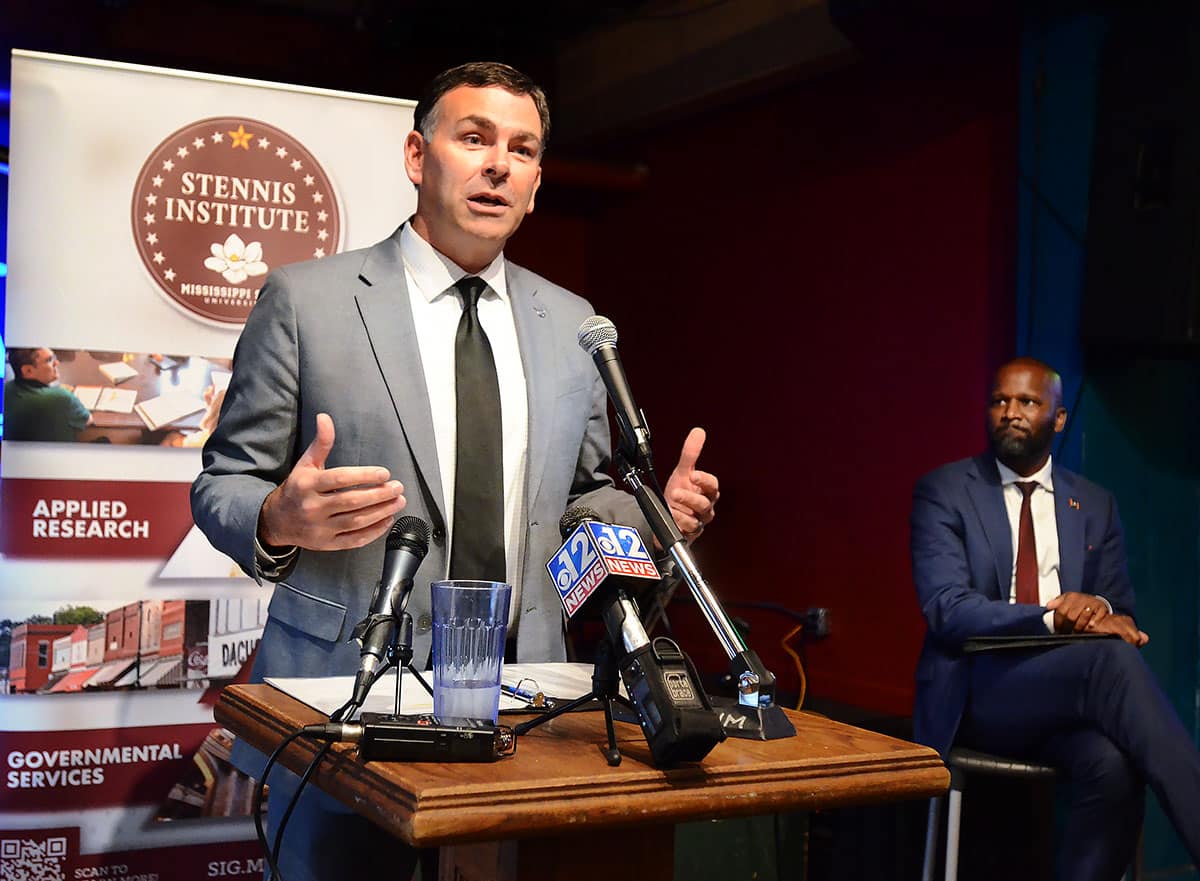 Incumbent Republican Secretary of State Michael Watson said he's cut red tape for businesses, worked with lawmakers to make elections more secure and will push for major campaign finance reform if reelected.
Democratic challenger Ty Pinkins said Mississippi's economy trails most of the rest of the country, and Watson had many years as a state senator before his four as secretary of state to champion campaign finance reform but didn't.
The two candidates spoke and fielded questions at the Stennis Institute of Government's Capitol Press Corps Luncheon on Monday. The forum was billed as "non-debate format," and the candidates took the podium and spoke and answered questions in turns.
"I think Mississippi deserves a better choice on the ballot this November," said Pinkins, a late entry into the race, replacing the former Democratic nominee who dropped out for health reasons. "… I'm running for secretary of state because I've been all over this state and people in Mississippi are ready for someone to lead. The problem is we have the wrong people in some of these offices … Mississippi is still near last economically because of the failed policies implemented by Republicans."
Watson itemized numerous accomplishments in his first term, including registration of more than 250,000 new voters, working with lawmakers to prevent "ballot harvesting" and making voting machines more secure. He said his office has streamlined business services and cut red tape.
"Despite what you may hear from some of my (media) friends here today, it's a great time to be a voter in Mississippi," Watson said.
Both candidates vow to reform Mississippi's weak, often unenforced campaign finance laws and reporting.
Watson said his office has a request for proposals out on a new computer system, and will work with the Legislature to create a publicly searchable campaign finance data system like most other states have. He has said he would push for his office to take over enforcement of campaign finance violations since no one else appears interested and said he has already been meeting with legislative leaders on other reforms.
Pinkins said he also would work to make campaign finance reports transparent and searchable.
"Our campaign finance reporting system is broken, and it didn't just break last week, it's been broken a long, long time," Pinkins said. He said he also would push for online voter registration, no-excuse early voting and same-day voter registration on election day.
Both candidates are attorneys.
Watson, 45, from Pascagoula, served in the state Senate from 2008 to 2020. He ran his own law firm, focusing on business, construction and probate law.
Pinkins, 49, from Vicksburg, is a decorated U.S. Army veteran who served three combat tours, a former White House communications aide and former lawyer with the Mississippi Center for Justice.
This article first appeared on Mississippi Today and is republished here under a Creative Commons license.
Mississippi has one of the country's highest rates of people without health insurance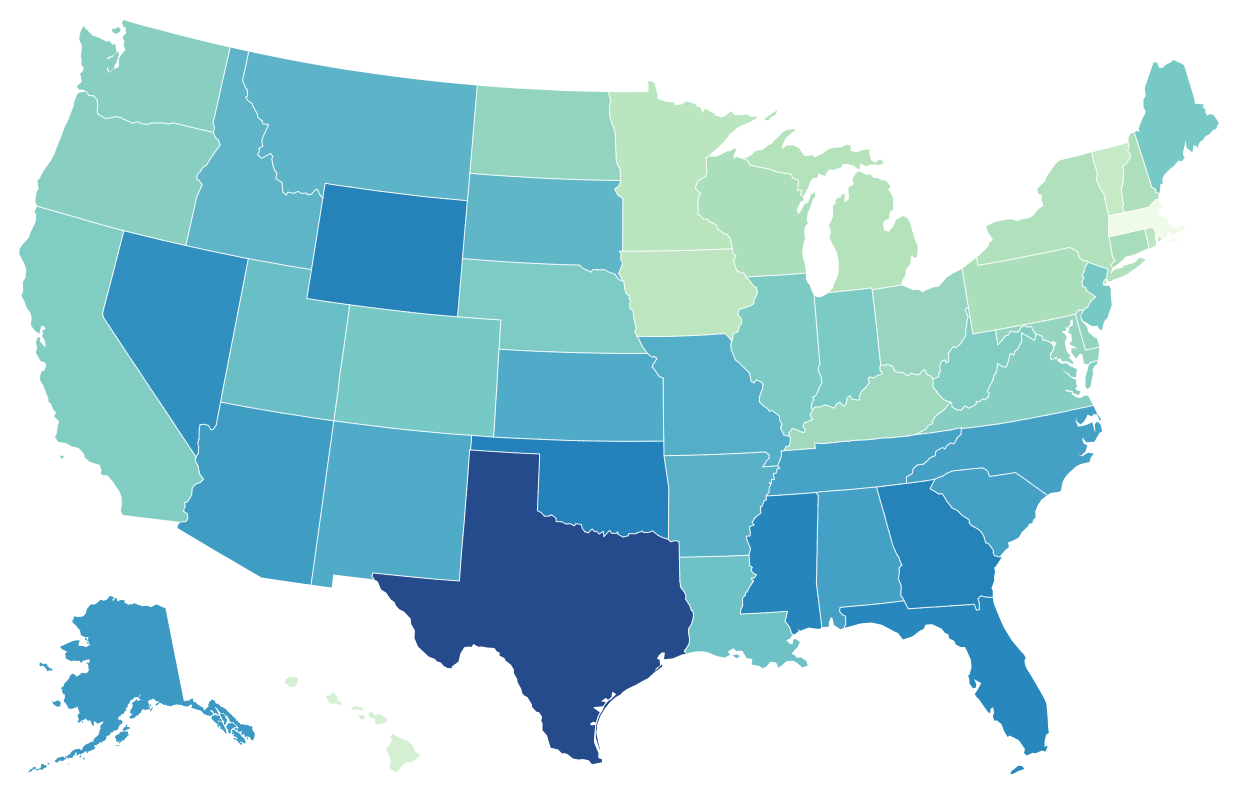 Mississippi is one of the most uninsured states in America, according to new data.
The U.S. Census Bureau's American Community Survey, released last month, shows that in 2022, Mississippi had one of the highest percentages of people without health insurance coverage in the country, along with Alaska, Wyoming, Texas, Nevada, Arizona, Oklahoma, Georgia and Florida.
States in the South had some of the highest uninsured rates, according to the survey.
The same survey showed that Mississippi has the fifth highest uninsurance rate among working age people from 19 to 64. Only Texas, Oklahoma, Georgia and Wyoming have worse uninsurance rates.
Another Census survey, the Household Pulse survey, conducted from Aug. 23 to Sept. 4 shows Mississippi had the highest level of uninsurance among working age people during that time frame. Almost every one in five Mississippians ages 18-64, or 20.44%, likely didn't have insurance, according to a Mississippi Today analysis of the data.
It also shows that during that period 16.9%, or about one in six Mississippians of all ages, were uninsured. That's an increase from 14.7% in March, according to the State Health Access Data Assistance Center, though a researcher from the center said the latter survey's results should be carefully considered.
The Household Pulse survey can be used to monitor trends and data, but Robert Hest, a senior research fellow at the center, said it shouldn't be used to draw definitive conclusions because of its short data collection period and low response rate.
The American Community Survey is more reliable, he said.
"We would be very surprised to see that Mississippi has the nation's highest rate of uninsurance," he said. "Mississippi's uninsured rate, though often among the highest, is typically lower than uninsured rates in other states such as Texas, Florida and Georgia."
According to the American Community Survey, Mississippi's total uninsured rate was 10.8% and its uninsured rate among people aged 19 to 64 was 16.4% in 2022.
The new data comes as states across the country review the eligibility of Medicaid beneficiaries for the first time in three years. During the pandemic, state Medicaid divisions were prohibited from removing anyone from their rolls. Those regulations ended in May.
So far, almost 70,000 people have been kicked off Medicaid in Mississippi — most of them because of paperwork issues, not eligibility. Many of the people who have been disenrolled are children.
From March to September, Mississippi's overall Medicaid coverage decreased from 19.8% to 16.7%, the survey also shows.
State Health Officer Dr. Dan Edney said health insurance saved his life — and cost him his father's.
Edney's father, who didn't have health insurance, died at 56 of colon cancer, a preventable disease, he said. At 47, Edney underwent a screening that detected premalignant polyps – a discovery he credits to having insurance and access to preventative care.
"I want all Mississippians to have the same access to life-saving screenings that I have, but too many are dying young as my father did," he said.
Mississippi's high uninsured rate is costing hospitals, too.
As the state's health crisis continues, uncompensated care costs — the money hospitals lose caring for uninsured patients — are putting further burden on hospitals.
Uncompensated care costs for Mississippi hospitals have hovered around $600 million a year. According to one study, Medicaid expansion would cut Mississippi hospitals' uncompensated care by an average of $251.6 million a year from 2020-2030.
One report puts almost half of the state's hospitals at risk of closing.
Gov. Tate Reeves recently announced a plan to help bring more money to hospitals, but reiterated his opposition to Medicaid expansion at the same press conference.
His plan will likely keep some hospitals open for longer, but it won't insure more Mississippians. That means uninsured people in Mississippi will generally have to continue to rely on the emergency room for their medical care — emergency rooms cannot turn away patients, though doctor's offices and pharmacies can.
"Investing in our hospitals is critically important, and we need solutions to help uninsured Mississippians have access to our hospitals, especially outpatient services, which are critically important for improving poor health outcomes," Edney said. "Without appropriate access to preventive services, it will be difficult to improve our extremely poor health outcomes."
Alex Rozier contributed to this report.
This article first appeared on Mississippi Today and is republished here under a Creative Commons license.
Did you miss our previous article...
https://www.biloxinewsevents.com/?p=292841