Hinds County forces unite against bill to create unelected judicial district, expanded police force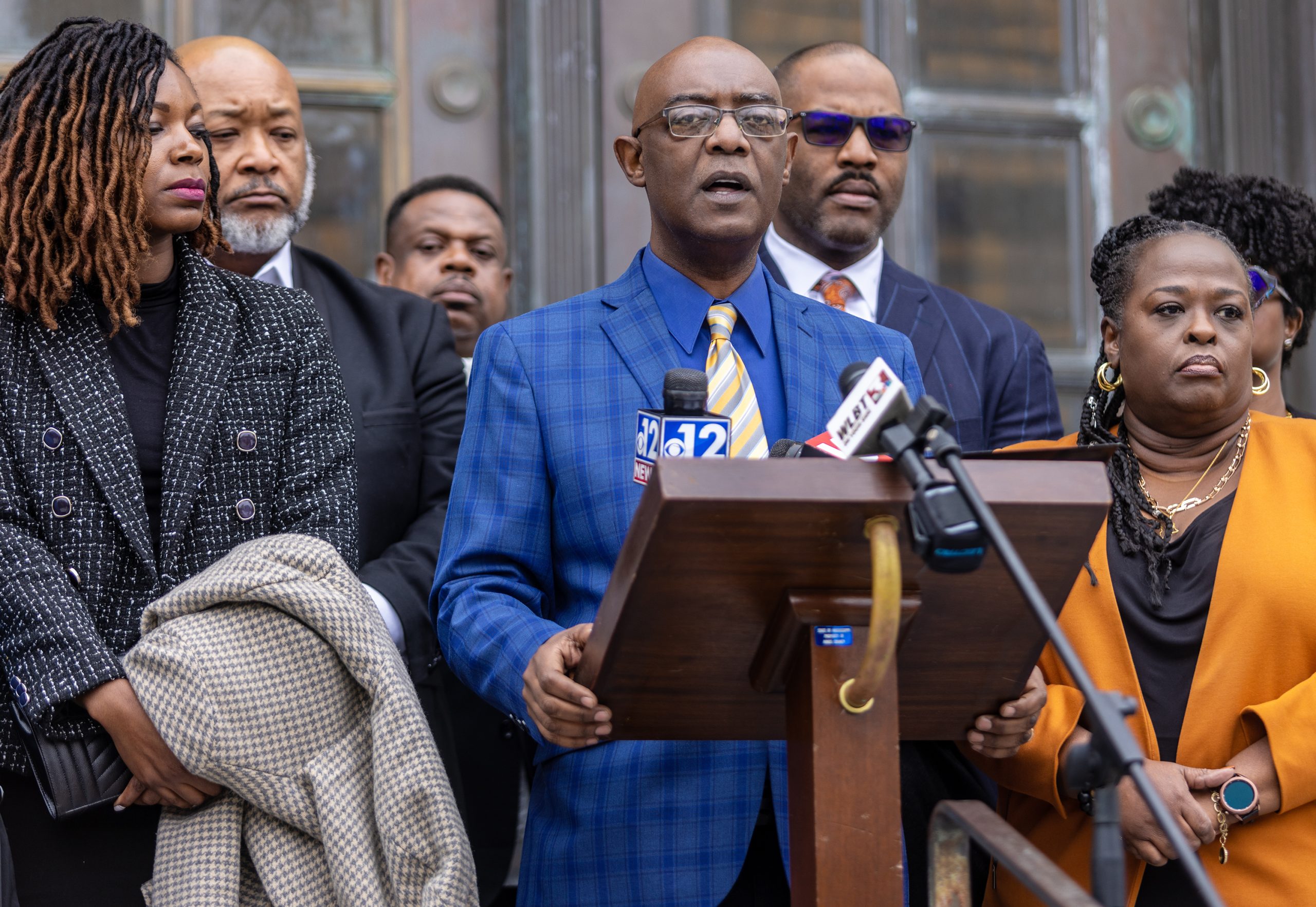 Hinds County forces unite against bill to create unelected judicial district, expanded police force
Jackson and Hinds County community members, elected officials, pastors and advocacy groups hope to stop legislation that would expand the boundaries of the Capitol Police and create a court system within the force's district.
Opponents of House Bill 1020 say it is an unprecedented attempt to strip power away from the city of Jackson, which has one of the largest Black populations in Mississippi. They say the bill is racist and it implies that Black leadership is incapable of governance.
"We get to put all the action in someone else's hands and pay the taxes to the king," Mayor Chokwe Antar Lumumba said during a Tuesday press conference on the Capitol steps.
The bill, proposed by Rep. Trey Lamar, R-Senatobia, has passed through the Ways and Means Committee and is up for consideration by the full House.
Speakers at the news conference said they are against the existence and expansion of the Capitol Police, which was involved in several shootings last year that led to injuries or deaths, including the death of 25-year-old Jaylen Lewis, who died after a traffic stop by a Capitol Police officer.
The current boundaries of the Capitol Complex Improvement District where the Capitol Police operates include downtown, Jackson State University, the University of Mississippi Medical Center, Fondren and Belhaven. HB 1020 would push the district north.
The district started out as a way to provide funding for infrastructure in the Capitol area. During the COVID-19 pandemic, the Legislature used federal relief funds to create a patrol fleet for the Capitol Police and have four appointed judges help address case backlogs within the Hinds County Circuit Court, said Attorney Paloma Wu from the Mississippi Center for Justice.
She said this set the stage for HB 1020. The bill proposes creating a court system for the district with judges appointed by the Mississippi Supreme Court chief justice and prosecutors appointed by the state attorney general. The chief of the Capitol Police District would also be appointed by the Department of Public Safety commissioner.
"It impacts you whether you live within the red line or the blue line," Wu said about how the district court system would cover not just people living in the district, but around Hinds County.
Wu said the power of over 200,000 Hinds County residents would be placed in the hands of one person – Supreme Court Chief Justice Michael Randolph. He did not respond to a request for comment Tuesday.
Opponents also said the bill will empower a slate of all white and unelected officials for Hinds County.
The entire Hinds County Democratic delegation and Mississippi Senate Democratic Caucus are against the bill, according to statements from the groups.
The county's circuit, chancery, county and justice court judges released a statement Monday evening calling the bill unconstitutional and one that would disenfranchise the county's voters and remove power from elected judges.
"House Bill 1020 removes authority of the Circuit, Chancery, County and Justice Court judges from hearing and presiding over cases within the proposed Capital Improvement District and takes the constitutional power of elected judges and gives it to Judges appointed by the Supreme Court,." according to the statement.
On Tuesday on the steps of the Hinds county Courthouse, the judges flanked Senior Circuit Judge Winston Kidd. He said the residents of every judicial district elect their judges, but HB 1020 would make Hinds County the exception.
Kidd said if the Legislature wants to add more judges, it should add ones that are elected.
HB 1020 also proposes sending 18.75% of sales tax that would otherwise go to Jackson to a Capitol Complex Improvement District project fund.
At the Capitol news conference, several speakers said what could happen with the legislation is similar to what happened in the 1800's when lawmakers sought to disenfranchise Black residents.
Rep. Edward Blackmon Jr., D-Canton, evoked the names of Fannie Lou Hamer and Medgar Evers as people who fought for the right of Black people to vote.
"We are united in our effort and our voice to stop this atrocity because if you don't do it now, you'll be marching tomorrow," he said. "You'll be marching for what we've won, what our forefathers and grandmothers and granddaddies fought for for so many years and gave up their blood and tears. You'll be letting down their effort."
This article first appeared on Mississippi Today and is republished here under a Creative Commons license.
In last ditch effort to stay open, Holly Springs hospital ends inpatient care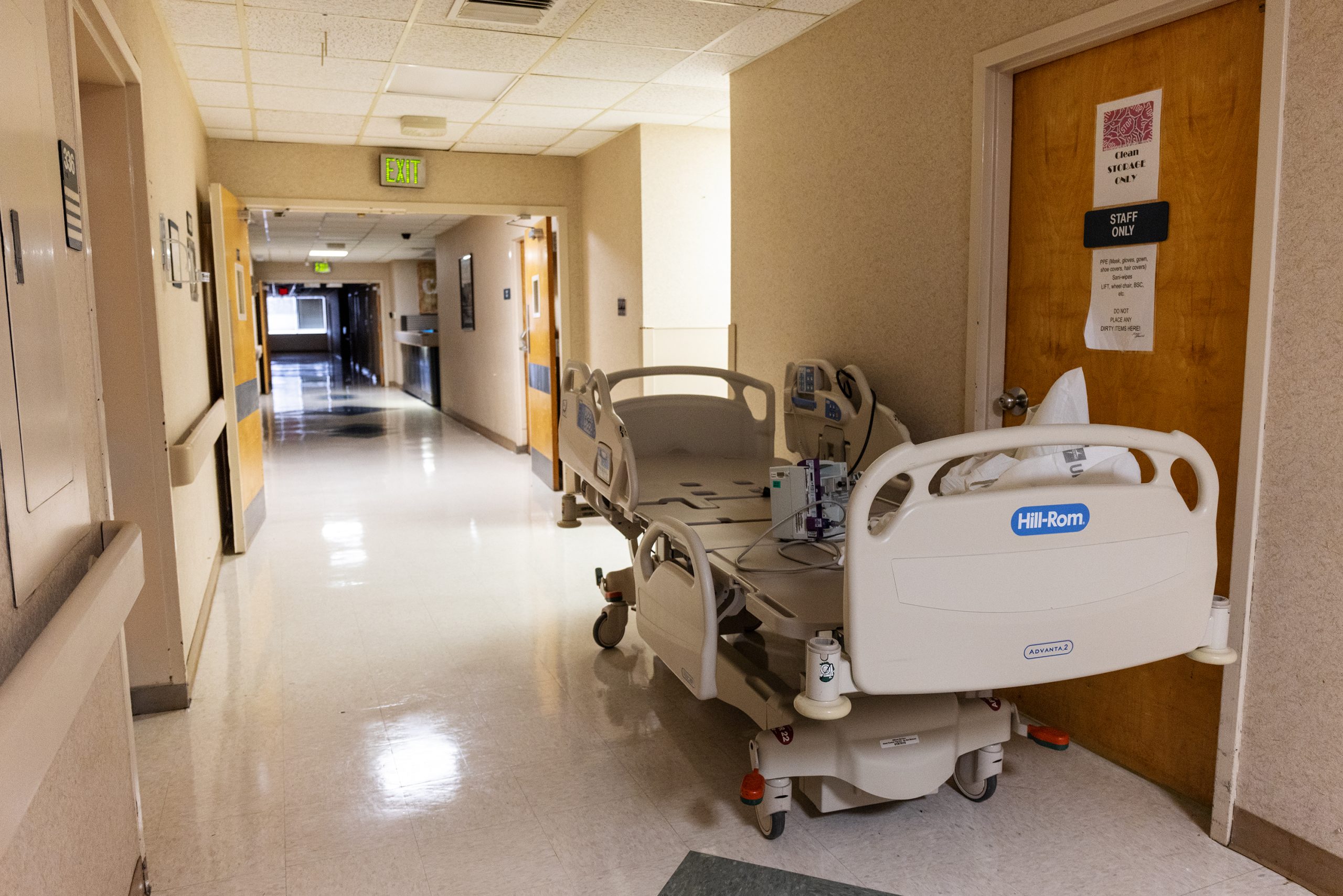 In last ditch effort to stay open, Holly Springs hospital ends inpatient care
Alliance Healthcare System in Holly Springs is Mississippi's first rural emergency hospital – the first in a trend some say indicates the further decline of health care access in the one of the country's poorest and sickest states.
Hospitals were able to apply for the new federal designation mere weeks ago, when the Mississippi Department of Health rolled out its rules for "rural emergency hospitals." The federal government finalized the program in November.
Rural emergency hospitals are a step below critical access hospitals, which must have 25 or fewer inpatient beds, provide emergency services, keep its patients for less than 96 hours and be located at least 35 miles from another hospital.
The resources at rural emergency hospitals are even fewer — they must end all inpatient care and transfer patients to larger hospitals within 24 hours of the patient coming to the emergency room.
The hospital has already begun getting rid of all its inpatient beds and discharging current patients, as reported by the South Reporter, Marshall County's community newspaper, on Wednesday. The acute care center is currently licensed for 40 beds, though its daily census doesn't go much higher than four or five patients a day, according to hospital CEO Dr. Kenneth Williams.
The hospital has partnered with North Mississippi Medical Center and will transfer its patients there if necessary, he said.
He also said Alliance is one of just a handful of hospitals across the country approved for the designation so far.
As of Thursday, spokespeople from the state Department of Health said Alliance's new hospital designation hadn't been approved by the Centers for Medicare and Medicaid Services. But according to Williams, it had been approved by both required parties, CMS and the state Health Department, on Wednesday. 
"I haven't even had a chance to share this with my staff," he said Thursday. "Yesterday was an exciting day for me to have that designation. I'm looking forward to the future to see how it works out."
Rural emergency hospitals also can't provide swing bed services, which means if a hospital operates a nursing home, that has to close. Alliance does not operate a nursing home.
Both rural emergency and critical access hospital designations are meant to ease financial stress — if a hospital qualifies as either, in exchange, they get paid more for their services. Rural emergency hospitals also get monthly payments from the federal government.
The program is aimed at preventing the closure of rural hospitals and creating a way they can increase financial viability and maintain operations. The idea is that rural hospitals at risk of closure already struggle with low patient counts and low payments for inpatient care.
But it's meant as a last resort for hospitals that are barely surviving because of the limited amount of services a rural emergency hospital can offer.
State Health Officer Dr. Dan Edney considers it a closure when a hospital converts to an REH because of the loss of services. He tweeted in early February about the state's first "loss" of a hospital, which is around the time Alliance applied for the designation with the Centers for Medicare and Medicaid Services and the Mississippi Department of Health. He compared rural emergency hospitals to triage units.
Williams, on the other hand, sees them as "expanded outpatient hospital systems."
Rep. John Faulkner, a Democrat who represents Holly Springs, was not immediately available for comment Friday morning.
Williams bought the hospital two decades ago when he heard it was struggling. During its first years under Williams, he said the hospital was making money. Then in 2006, it lost almost $2 million with the arrival of Medicare Advantage plans, which are privatized versions of Medicare that often deny needed care and underpay hospitals.
Holly Springs is a certified retirement community, which means most of the hospital's patients are on Medicare.
They've had good years and bad years since, but it's been mostly downhill, especially since the pandemic began.
"I knew that our hospital couldn't exist under the payment system it is under right now," Williams said.
A little more than a decade ago, Alliance tried applying to become a critical access hospital. They were rejected because of the hospital's proximity to Memphis.
Now, Williams says the federal rules are a little more relaxed, and he decided to apply at the recommendation of his partner, Quentin Whitwell, who operates hospitals in north Mississippi and serves as legal counsel for Alliance Healthcare, and the hospital's financial team.
"With REH, the robust outpatient services the clinic brings to the community will be enhanced, along with continued 24/7 coverage, and the costly services will be reduced while receiving an annual subsidy," Whitwell said when reached by text Thursday. "We are glad it worked out."
Few Mississippi hospitals are making money, especially in the state's more rural regions. The problem is multifaceted, but experts say the crisis has resulted from a combination of state leaders' refusal to expand Medicaid, insurance companies' low reimbursement rates and the pandemic forcing costs up in all areas, including staffing.
"The funding of health care in rural America is going down," Edney previously told Mississippi Today in an interview. "There is no one coming to the rescue."
Williams said many of the challenges hospitals are facing lead back to insurance payments and managed care plans, like Medicare Advantage.
He could've closed the hospital back in 2012, Williams said, when it first applied for critical access status, but he's done everything he can to keep it open, including some layoffs and reorganizing their staff.
But at some point, "you cut muscle instead of fat," Williams said.
One report from the Center for Healthcare Quality and Payment Reform puts a third of rural Mississippi hospitals at risk of closure, and half of those within a few years.
"Too many small rural hospitals are closing," Williams said. "Big hospitals are struggling, whether or not they admit it, but you can get by if you're doing high-end procedures.
"But just to take care of a regular patient who has congestive heart failure, with diabetic ketoacidosis, who is sick, they (insurance companies) don't want to pay you for it."
According to data from the CHQPR, Alliance Health has been losing money for the past few years, both overall and specifically taking care of patients.
And just in case the rural emergency hospital structure doesn't work, Alliance is still applying for the critical access designation, too. If the new designation doesn't stabilize the hospital, it can revert to its original status as an acute care facility or, if it is approved for the critical access hospital designation, it can convert to that, instead.
"Would I prefer to have us continue to operate the way that we were, having patients be admitted? Absolutely," Williams said. "It is unfortunate that we had to make this move, but it is the right move based on the reality of health care and this payment system."
According to Edney, Mississippi can likely expect more conversions to rural emergency hospitals – or, as he refers to them, "closures" – in the coming months.
This article first appeared on Mississippi Today and is republished here under a Creative Commons license.
'Like you were unzipping a jacket': How survivors barely missed tornado damage, and their next steps for rebuilding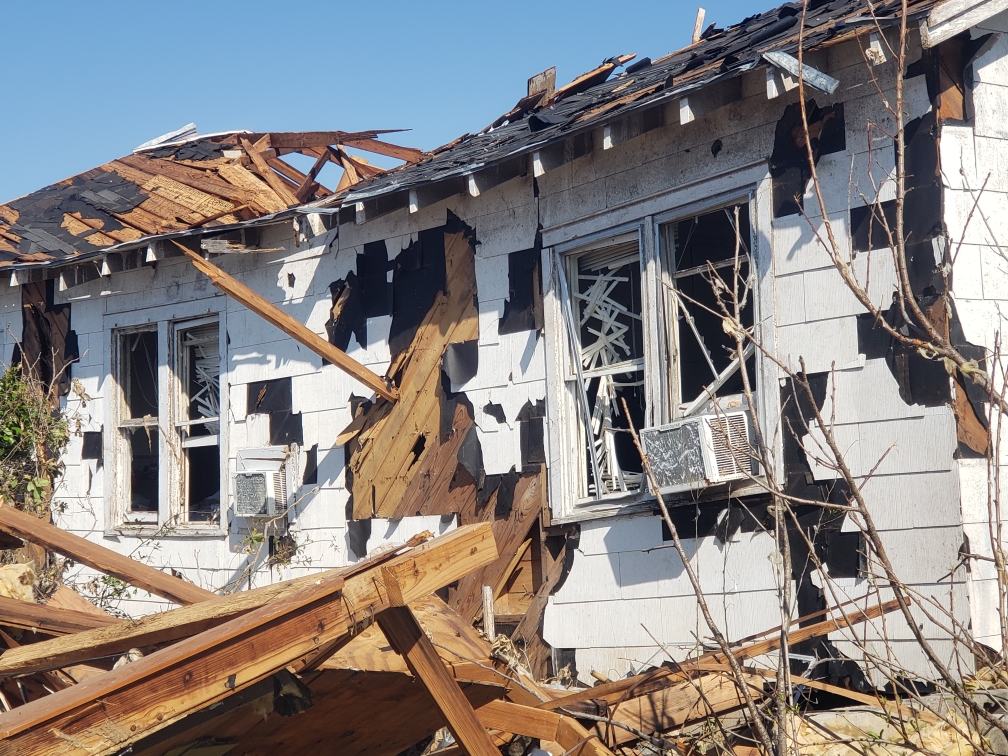 'Like you were unzipping a jacket': How survivors barely missed tornado damage, and their next steps for rebuilding
ROLLING FORK – At first, Eddie Jones' two 5-year-old twin daughters didn't want to stay with his mother last Friday night.
But after she insisted, the girls complied, and at around 6:30 p.m. they made the short four-block trip to their grandmother's house.
Now by himself in his Rolling Fork home, Jones, a 50-year-old retiredArmy veteran, anchored his attention to the television, where he was tracking some NBA wagers he placed on a fantasy sports app. With his earpiece clipped in, Jones was talking with his buddies about the night's games when he heard a strange whistling sound from outside at around 8 p.m.
The whistling turned to a roar, and Jones bolted for the bathroom. He ran so fast he banged his leg on the bathtub before he laid down inside it.
He knew what it was, because a couple hours earlier he saw an alert on his phone about a possible tornado in the area. At the time, he didn't think much of it, figuring it was just another one of the small storms he was used to. There might be some lightning, some power outages, but things would be fine by the morning, Jones told himself.
"It's pretty regular around here," he said later, recalling the warning on his phone. "But things were different this time."
When asked if he heard a tornado siren or any other kind of alarm from outside his home, Jones said he didn't hear anything.
Sharkey County Supervisor Bill Newsom confirmed to Mississippi Today that a siren in Rolling Fork wasn't working when the storm arrived on Friday. On the county website, a notice about the siren's repairs says that, in the event of a tornado, a patrol car would drive through the city with its sirens on to warn citizens.
Jones said he didn't hear that either. Rolling Fork officials couldn't be reached before this story published. Newsom said a Georgia-based company called him after the storm and said it would install a new siren for free.
While stationed in his bathtub, Jones heard the windows around the house pop.
"The glass was shooting everywhere, and my walls started cracking," Jones remembered. "It was just like you were unzipping a jacket."
Laying down, he felt the house lift up into the air and settle back onto the ground.
When the commotion outside died down, Jones looked up to see that his bathroom door had flown off, and his clothes were scattered around the house. He climbed around his belongings and tried to get outside, but the wind was still holding his front door shut. Instead, he ducked outside the one window that wasn't shattered and made his way to his mother's house where his daughters were.
Fortunately, her house just four blocks away was untouched.
Jones went back in the morning to check on the damages: The roof was cracked open, tree limbs protruded out of the side of his living room and his car's windshield. The entire house had shifted a few feet off of its foundation.
But what struck Jones the most was looking to his daughters' room. He noticed that the wind, after breaking the window, blew debris inside and across the room, shattering a mirror on the opposite wall.
"Had my girls been (home), asleep in their bed, they wouldn't be here," Jones said.
Jones and his daughters are still staying with his mother. He said the water pressure at her house finally returned to normal as of Wednesday, a relief after washing himself with baby wipes the last few days, and the power came back on Tuesday.
Now, Jones and hundreds of other Mississippians wait to see what relief will come from the government and charities to help them rebuild.
'It's going to be a mess'
Rolling Fork is in Sharkey County, which, with about 4,000 residents, is the second least-populated county in the state. After last weekend's tornadoes, about a quarter of the county is now displaced from their homes, Mississippi Insurance Commissioner Mike Chaney estimated.
Because President Joe Biden approved an emergency disaster declaration, victims are eligible for grants from the Federal Emergency Management Agency to help pay for temporary housing as well as to rebuild their homes.
The program, FEMA's Individual Assistance, can kick in if a victim doesn't have insurance covering storm damage or if the insurance doesn't cover all of the damages. Victims can also apply for low-interest loans from the Small Business Administration. Receiving an SBA loan and its interest rates are subject to a victim's credit history, among other factors.
Chaney said it'll be a challenge to get all of the resources needed from the government to rebuild Sharkey County, where 27% of residents live in poverty and many homes are uninsured.
"For the individuals, the lower income population, they're not insured," he said. "A lot of them live in trailers. It's going to be a mess, it's going to be hard. The government is going to have to really step in this time."
Chaney estimated that, between people's homes and county infrastructure, Sharkey County could be dealing with over $200 million in uninsured losses.
"I've never been so stressed in all of my life. I'm usually a strong old woman, but I ain't that no more," said Collie Barnes, an 81-year-old lifelong resident of Anguilla, which is just north of Rolling Fork. "I'm just glad to be alive."
Barnes took refuge with her neighbors, who initially wanted to stay home, in a nearby church after hearing about the storm on the news. She went back to see her porch was missing and water was leaking through the roof, but she realized she was relatively fortunate.
"(Her neighbor) said, 'I better see if I got a house,' and she didn't. It was gone," Barnes said.
On Wednesday, Barnes and others came to the town hall in Anguilla – which itself is still recovering from a tornado last December – where a FEMA official sat outside, helping victims apply for assistance.
The state hasn't yet released an official count of total people displaced. While as of Tuesday less than 30 people were staying in shelters, according to the Mississippi Emergency Management Agency, a motel in Greenville is giving over 100 of its rooms for victims to stay in, the Clarion Ledger reported.FEMA is also placing victims in nearby hotel rooms, an agency spokesperson said, adding that anyone affected should either call800-621-3362or visitdisasterassistance.govfor help.
On Thursday, MEMA gave the latest information on damaged homes, deaths and injuries by county:
Bolivar County: 9 damaged homes
Carroll County: 24 damaged homes, 5 injuries, 3 deaths
Humphreys County: 55 damaged homes, 15 injuries, 3 deaths
Itawamba County: 1 damaged home
Lafayette County: 2 damaged homes
Lee County: 10 damaged homes
Monroe County: 1,476 damaged homes, 55 injuries, 2 deaths
Montgomery County: 49 damaged homes
Grenada County: 1 damaged home
Prentiss County: 1 damaged home
Panola County: 31 damaged homes
Sharkey County: 255 damaged homes, 15 injuries, 13 deaths
MEMA spokesperson Malary White said that, as of Tuesday, all missing persons had been accounted for.
So far, FEMA has approved Carroll, Humphreys, Monroe and Sharkey Counties to apply for Individual Assistance. MEMA spokesperson Malary White said more counties could be added as damage assessments continue.
Those counties, as well as Attala, Chickasaw, Clay, Grenada, Holmes, Issaquena, Itawamba, Lee, Leflore, Lowndes, Montgomery, Sunflower, Washington and Yazoo counties are also eligible to apply for SBA disaster loans.
This article first appeared on Mississippi Today and is republished here under a Creative Commons license.
'Out to get Jackson': Bill to create separate courts, police for part of capital city advances over protest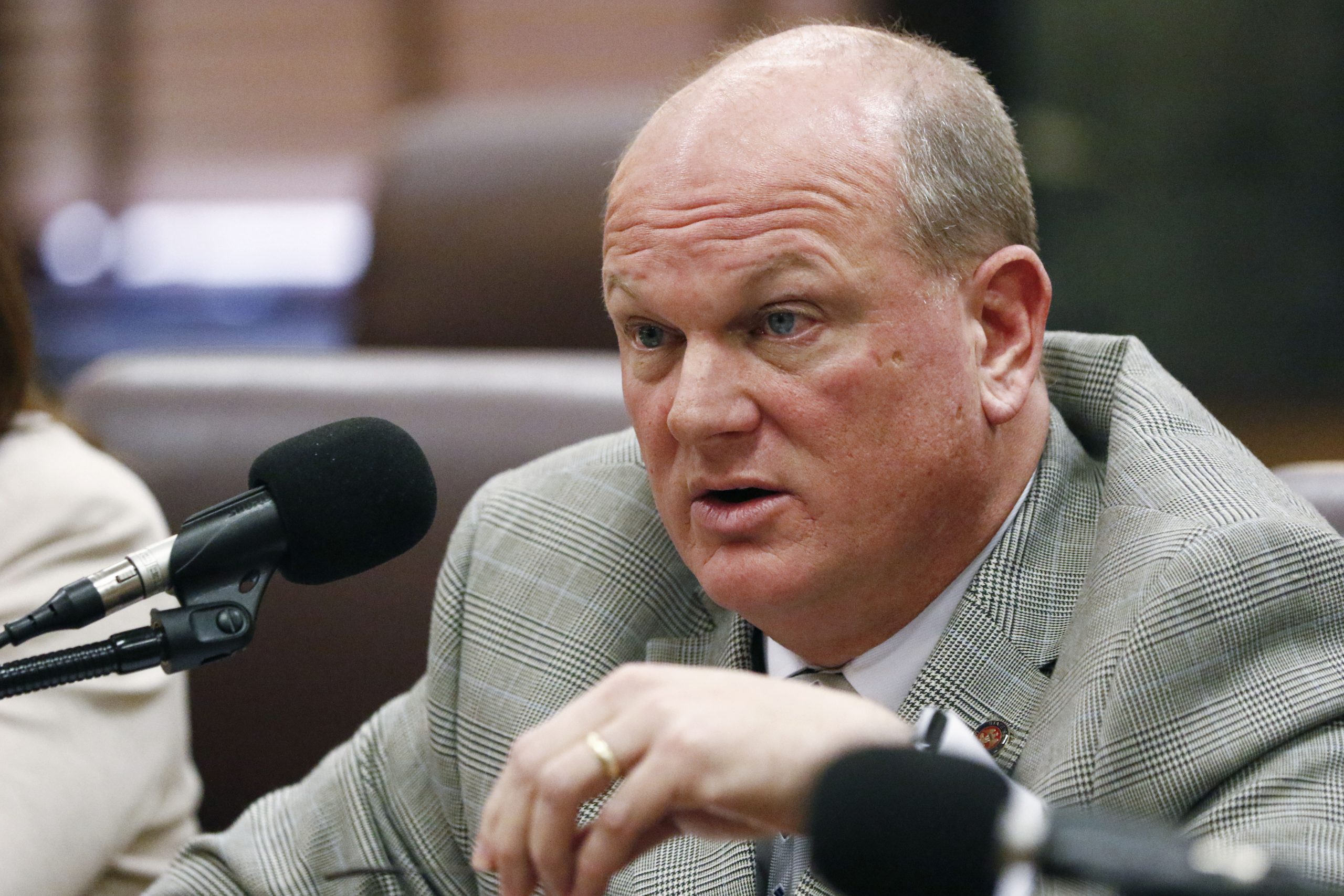 'Out to get Jackson': Bill to create separate courts, police for part of capital city advances over protest
Legislation that has brought hours of bitter debate, has inspired broad negative national attention and has racially divided the Mississippi Legislature about its capital city of Jackson took a penultimate step towards reaching the governor's desk Thursday night.
The Senate passed House Bill 1020, which would create separate, appointed courts for downtown and more affluent, whiter parts of Jackson — the Blackest large city in the nation. The Senate also passed a companion measure that will expand state police jurisdiction in the city.
The vote, over objections from the Jackson legislative delegation and every Black senator, was 31-15. The measure will be taken up by the House, where it is expected to pass, on Friday, likely the last day of the 2023 legislative session. If passed in the House, the measure will reach Gov. Tate Reeves' desk for signature or veto.
If it becomes law, judges for this area will be appointed by the Mississippi Supreme Court chief justice, not elected like everywhere else in Mississippi. People who call for help there will reach a separate 9-1-1 system for the state-run Capitol Police. Those arrested there, even for misdemeanor crimes such as DUI, will be held in a state prison, not a city or county lockup.
White, Republican legislative leaders say they're fed up with crime in the capital city and are trying to help. City and legislative leaders from Jackson say it's an unconstitutional state takeover that smacks of Jim Crow separate-but-equal governance.
READ MORE: House revives state police expansion and bitter fight over Jackson 'takeover'
Weeks of haggling between House and Senate leaders and changes to the measures — including making the separate circuit and municipal-type court systems temporary through 2026 and 2027 — did little to allay opposition.
"It's almost as if folks resent Jackson — politically, economically, socially, racially — and we've been out to get Jackson," said Sen. John Horhn, D-Jackson. "That's what it feels like, in this Legislature, like we're out to get Jackson. It's not that we see a problem and we've got to help our capital city. It's almost as if we're doing everything we can to ensure it fails and gets flushed down the Pearl River.
"… State government has basically left Jackson to its own devices for many years now," Horhn continued. "… You take as much of the resources as you can out of the city, and then you blame us when things go wrong … We will not be a great state if we don't have a great city. We will not be a great state if we don't have a great capital city, and we will not be a great state if Black folks and white folks don't learn to get along and do things for our mutual benefit."
Some lawmakers questioned the legality and constitutionality of the measures.
"There will be two systems of justice for people in Jackson," said Sen. David Blount, D-Jackson. "If you're in this neighborhood, you have one type of justice. If you're in this neighborhood, you have this type. It's fundamentally un-American and unconstitutional. Not only do you have a different kind of justice, people in this part of town have one 9-1-1 system. People in this part have this 9-1-1 system. How is that equal protection under the law? We have almost completely segregated politics in Mississippi right now, let's be honest."
Senate Judiciary Chairman Brice Wiggins, R-Pascagoula, helped haggle out a final version of HB 1020 and argued for its passage. He told his colleagues about inviting two women from New Mexico to come appear before his committee a couple of years ago. He said they stayed in a downtown Jackson hotel the night before the meeting.
"They said they were scared to walk to the Capitol," Wiggins said. "… I could see it in their faces. They thought they were going to be harmed. They had to take a cab. They couldn't walk downtown to the Capitol."
"This is not about race," Wiggins said. "This is about helping the citizens of Jackson … We have to stop the divisive race baiting when all we are trying to do is help our fellow Mississippians."
This article first appeared on Mississippi Today and is republished here under a Creative Commons license.