Insulin injections could one day be replaced with rock music − new research in mice
Insulin injections could one day be replaced with rock music − new research in mice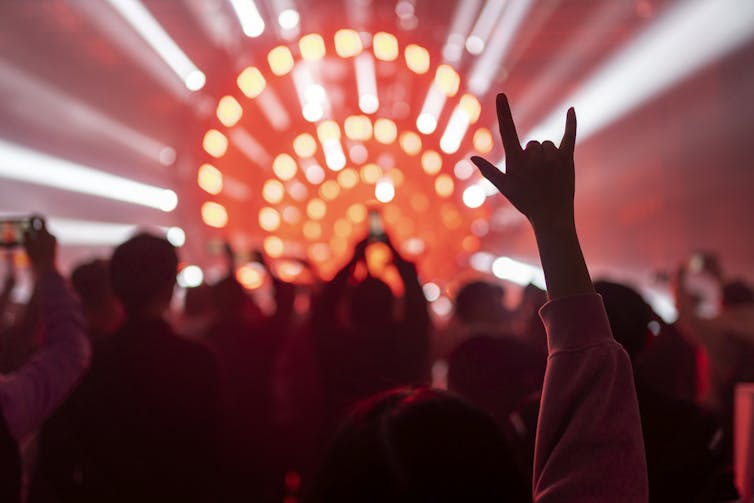 Bill Sullivan, Indiana University
More than 37 million people in the U.S. have diabetes. According to the American Diabetes Association, 8.4 million Americans needed to take insulin in 2022 to lower their blood sugar. Insulin, however, is tricky to deliver into the body orally because it is a protein easily destroyed in the stomach.
While researchers are developing pills that resist digestion in the stomach and skin patches that monitor blood sugar and automatically release insulin, the most reliable way currently to take insulin is through frequent injections.
I am a professor of pharmacology and toxicology at Indiana University School of Medicine, where my colleagues and I study drug delivery systems. Researching innovative new ways to get medications into the body can improve how well patients respond to and comply with treatments. An easier way to take insulin would be music to the ears of many people with diabetes, especially those who aren't fans of needles.
In a recent study in The Lancet Diabetes & Endocrinology, researchers engineered cells to release insulin in response to specific sound waves: the music of the band Queen. Though it still has a long way to go, this new system may one day replace the insulin injection with a dose of rock 'n' roll.
What is diabetes?
Diabetes is a chronic disease that arises when the body fails to make enough insulin or respond to insulin. Insulin is a hormone the pancreas makes in response to the rise in sugar concentration in the blood when the body digests food. This crucial hormone gets those sugars out of the blood and into muscles and tissues where it is used or stored for energy.
Without insulin, blood sugar levels remain high and cause symptoms that include frequent urination, thirst, blurry vision and fatigue. Left untreated, this hyperglycemia can be life-threatening, causing organ damage and a diabetic coma. According to the U.S. Centers for Disease Control and Prevention, diabetes is the No. 1 cause of kidney failure, lower-limb amputations and adult blindness, making it the eighth most common cause of death in the U.S.
Treating diabetes is straightforward: When the body is lacking insulin, give it more insulin. Scientists have mastered how to make the hormone, but direct injection is the only effective way to get it into the body. Diabetic patients usually have to carry insulin vials and needles wherever they go. Considering that many people fear needles, this may not be an ideal way to manage the disease.
This challenge has sparked researchers to look into new ways to deliver insulin more easily.
What is cellular engineering?
Cells are the basic unit of life. Your body is composed of hundreds of different types of cells that carry out specialized functions. In some diabetic patients, the pancreatic beta cells that make insulin have malfunctioned or died. What if there were a way to replace these defective cells with new ones that could produce insulin on demand?
That's where cellular engineering comes in. Cellular engineering involves genetically modifying a cell to perform a specific function, like producing insulin. Installing the gene that makes insulin into cells is not difficult, but controlling when the cell makes it has been a challenge. Insulin should be made only in response to high blood sugar levels following a meal, not at any other time.
Scientists have been exploring the idea of using ion channels – proteins embedded in a cell's membrane that regulate the flow of ions such as calcium or chloride – like a remote-controlled device to activate cellular activity. Cells with specific types of ion channel in their membranes can be activated in response to certain stimuli, such as light, electricity, magnetic fields or mechanical stimulation. Such ion channels exist naturally as sensory devices to help cells and organisms respond to light, magnetism, touch or sound. For example, hair cells in the inner ear have mechanosensitive ion channels that respond to sound waves.
Combining cellular engineering with Queen
Bioengineering professor Martin Fussenegger of ETH Zurich, a university in Basel, Switzerland, led a recent study that used a mechanosensitive ion channel as a remote control to signal cells to make insulin in response to specific sound waves.
These "MUSIC-controlled, insulin-releasing cells" – MUSIC is short for music-inducible cellular control – were cultured in the lab next to loudspeakers. His team tested a variety of musical genres of different intensities and speeds.
Among the songs they played were pop songs like Michael Jackson's "Billie Jean," Queen's "We Will Rock You" and the Eagles' "Hotel California"; classical pieces such as Beethoven's "Für Elise" and Mozart's "Alla Turca"; and movie themes such as Soundgarden's "Live To Rise," which was featured in "The Avengers," a Marvel film. They found that pop music heavy in low bass and movie soundtracks were better able to trigger insulin release compared with classical music, and cells were able to release insulin within minutes of exposure to the song.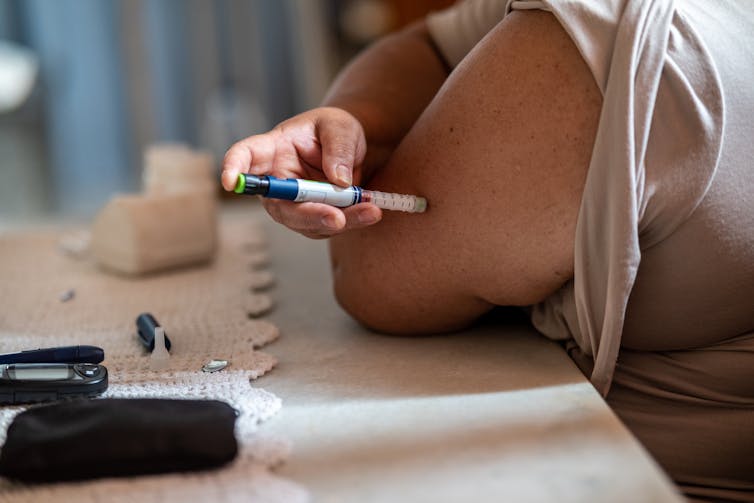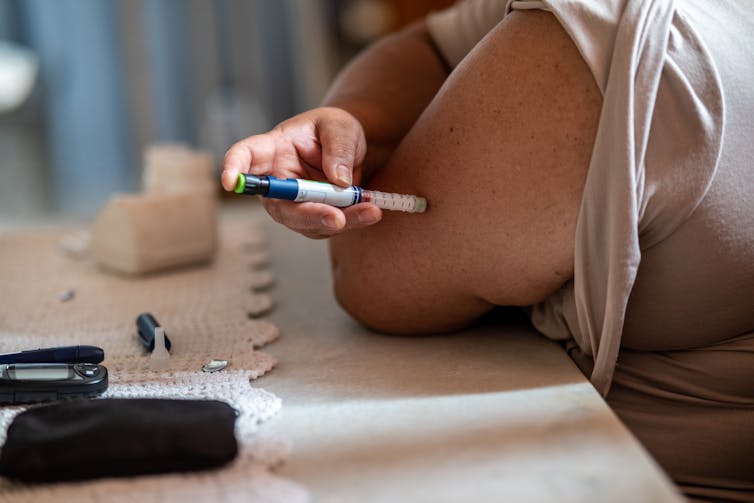 In particular, they found that the Queen song "We Will Rock You" most faithfully mimicked the rate of insulin release in normal pancreatic beta cells.
The team then implanted the MUSIC-controlled, insulin-releasing cells into diabetic mice. Listening to the Queen song for 15 minutes once a day returned the amount of insulin in their blood to normal levels. Blood sugar levels returned to normal as well. In contrast, mice that were not exposed to the song remained hyperglycemic.
Could music make insulin in people?
Despite these promising results, much more research is needed before this musical approach to producing insulin can be considered for human use.
One concern is the possibility of making too much insulin, which can also cause health problems. Fussenegger's study found that talking and background noise such as the racket made by airplanes, lawn mowers or firetrucks did not trigger the insulin production system in mice. The music also needed to be played close to the abdomen where the MUSIC-controlled, insulin-releasing cells were implanted.
In an email, Fussenegger explained that extensive clinical trials must be performed to ensure efficacy and safety of the technique and to determine how long the cellular implants can last. As with introducing any foreign material into the body, tissue rejection is also a concern.
Cellular engineering may one day provide a much-needed alternative to frequent injections of insulin for the millions of people with diabetes around the world. In the future, different cell types could be engineered to release other drugs in the body more conveniently.
Bill SullivanIndiana University
This article is republished from The Conversation under a Creative Commons license. Read the original article.
Did you miss our previous article…
https://www.biloxinewsevents.com/?p=305282
3 ways AI can help farmers tackle the challenges of modern agriculture
3 ways AI can help farmers tackle the challenges of modern agriculture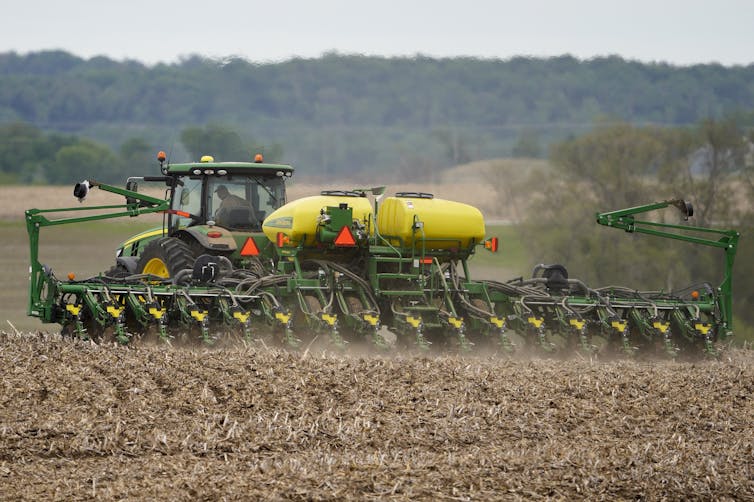 Joe Hollis, Iowa State University
For all the attention on flashy new artificial intelligence tools like ChatGPT, the challenges of regulating AI, and doomsday scenarios of superintelligent machines, AI is a useful tool in many fields. In fact, it has enormous potential to benefit humanity.
In agriculture, farmers are increasingly using AI-powered tools to tackle challenges that threaten human health, the environment and food security. Researchers forecast the market for these tools to reach US$12 billion by 2032.
As a researcher studying agricultural and rural policy, I see three promising developments in agricultural AI: federated learning, pest and disease detection and forecasting prices.
Pooling data without sharing it
Robotics, sensors and information technology are increasingly used in agriculture. These tools aim to help farmers improve efficiency and reduce chemical use. In addition, data collected by these tools can be used in software that uses machine learning to improve management systems and decision-making. However, these applications typically require data sharing among stakeholders.
A survey of U.S. farmers found that more than half of respondents said they do not trust federal agencies or private companies with their data. This lack of trust is linked to concerns about sensitive information becoming compromised or being used to manipulate markets and regulations. Machine learning could reduce these concerns.
Federated learning is a technique that trains a machine learning algorithm on data from multiple parties without the parties having to reveal their data to each other. With federated learning, a farmer puts data on a local computer that the algorithm can access rather than sharing the data on a central server. This method increases privacy and reduces the risk of compromise.
If farmers can be persuaded to share their data this way, they can contribute to a collaborative system that helps them make better decisions and meet their sustainability goals. For example, farmers could pool data about conditions for their chickpea crops, and a model trained on all of their data could give each of them better forecasts for their chickpea yields than models trained only on their own data.
Detecting pests and disease
Farmer livelihoods and global food security are increasingly at risk from plant disease and pests. The Food and Agriculture Organization estimates that worldwide annual losses from disease and pests total $290 billion, with 40% of global crop production affected.
Farmers typically spray crops with chemicals to preempt outbreaks. However, the overuse of these chemicals is linked to harmful effects on human health, soil and water quality and biodiversity. Worryingly, many pathogens are becoming resistant to existing treatments, and developing new ones is proving to be difficult.
Reducing the amount of chemicals used is therefore paramount, and AI may be part of a solution.
The Consortium of International Agricultural Research Centers has created a mobile phone app that identifies pests and disease. The app, "Tumaini," allows users to upload a photo of a suspected pest or disease, which the AI compares with a database of 50,000 images. The app also provides analysis and can recommend treatment programs.
If used with farm management tools, apps like this can improve farmers' ability to target their spraying and improve accuracy in deciding how much chemical to use. Ultimately, these efficiencies may reduce pesticide use, lessen the risk of resistance and prevent spillovers that cause harm to both humans and the environment.
Crystal ball for prices
Market volatility and fluctuating prices affect how farmers invest and decide what to grow. This uncertainty can also prevent farmers from taking risks on new developments.
AI can help reduce this uncertainty by forecasting prices. For example, services from companies such as Agtools, Agremo and GeoPard provide AI-powered farm decision tools. These tools allow for real-time analysis of price points and market data and present farmers with data on long-term trends that can help optimize production.
This data allows farmers to react to price changes and allows them to plan more strategically. If farmers' economic resilience improves, it increases the likelihood that they can invest in new opportunities and technologies that benefit both farms and the larger food system.
AI for good
Human innovation has always produced winners and losers. The dangers of AI are apparent, including biased algorithms, data privacy violations and the manipulation of human behavior. However, it is also a technology that has the potential to solve many problems.
These uses for AI in agriculture are a cause for optimism among farmers. If the agriculture industry can promote the utility of these inventions while developing strong and sensible frameworks to minimize harms, AI can help reduce modern agriculture's impact on human health and the environment while helping improve global food security in the 21st century.

Joe Hollis, PhD student in Rural Sociology and Sustainable Agriculture, Iowa State University
This article is republished from The Conversation under a Creative Commons license. Read the original article.
ChatGPT turns 1: AI chatbot's success says as much about humans as technology
ChatGPT turns 1: AI chatbot's success says as much about humans as technology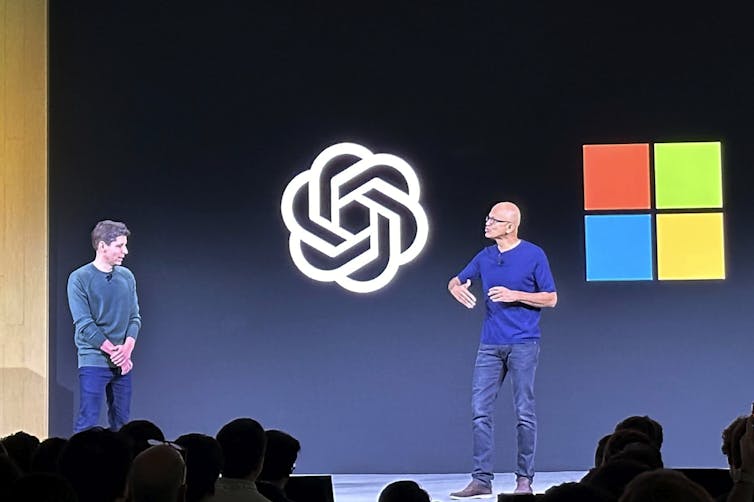 Tim Gorichanaz, Drexel University
ChatGPT was launched on Nov. 30, 2022, ushering in what many have called artificial intelligence's breakout year. Within days of its release, ChatGPT went viral. Screenshots of conversations snowballed across social media, and the use of ChatGPT skyrocketed to an extent that seems to have surprised even its maker, OpenAI. By January, ChatGPT was seeing 13 million unique visitors each day, setting a record for the fastest-growing user base of a consumer application.
Throughout this breakout year, ChatGPT has revealed the power of a good interface and the perils of hype, and it has sown the seeds of a new set of human behaviors. As a researcher who studies technology and human information behavior, I find that ChatGPT's influence in society comes as much from how people view and use it as the technology itself.
Generative AI systems like ChatGPT are becoming pervasive. Since ChatGPT's release, some mention of AI has seemed obligatory in presentations, conversations and articles. Today, OpenAI claims 100 million people use ChatGPT every week.
Besides people interacting with ChatGPT at home, employees at all levels up to the C-suite in businesses are using the AI chatbot. In tech, generative AI is being called the biggest platform since the iPhone, which debuted in 2007. All the major players are making AI bets, and venture funding in AI startups is booming.
Along the way, ChatGPT has raised numerous concerns, such as its implications for disinformation, fraud, intellectual property issues and discrimination. In my world of higher education, much of the discussion has surrounded cheating, which has become a focus of my own research this year.
Lessons from ChatGPT's first year
The success of ChatGPT speaks foremost to the power of a good interface. AI has already been part of countless everyday products for well over a decade, from Spotify and Netflix to Facebook and Google Maps. The first version of GPT, the AI model that powers ChatGPT, dates back to 2018. And even OpenAI's other products, such as DALL-E, did not make the waves that ChatGPT did immediately upon its release. It was the chat-based interface that set off AI's breakout year.
There is something uniquely beguiling about chat. Humans are endowed with language, and conversation is a primary way people interact with each other and infer intelligence. A chat-based interface is a natural mode for interaction and a way for people to experience the "intelligence" of an AI system. The phenomenal success of ChatGPT shows again that user interfaces drive widespread adoption of technology, from the Macintosh to web browsers and the iPhone. Design makes the difference.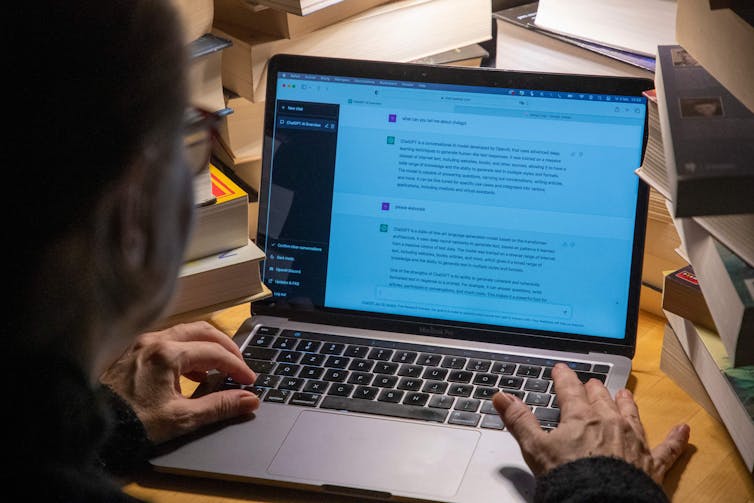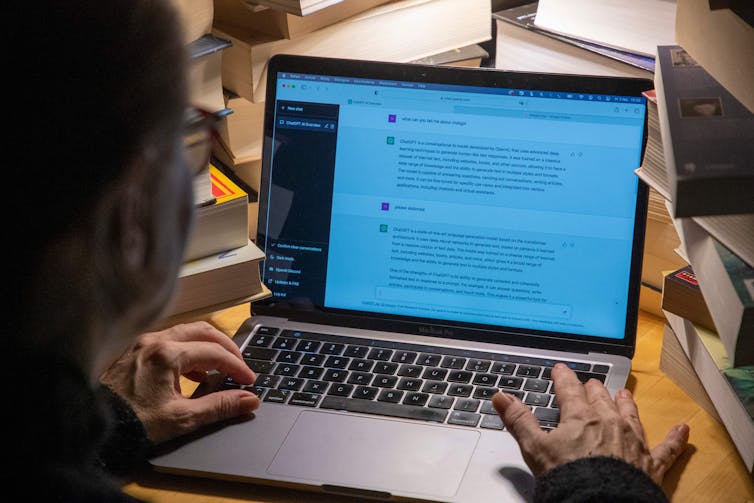 At the same time, one of the technology's principal strengths – generating convincing language – makes it well suited for producing false or misleading information. ChatGPT and other generative AI systems make it easier for criminals and propagandists to prey on human vulnerabilities. The potential of the technology to boost fraud and misinformation is one of the key rationales for regulating AI.
Amid the real promises and perils of generative AI, the technology has also provided another case study in the power of hype. This year has brought no shortage of articles on how AI is going to transform every aspect of society and how the proliferation of the technology is inevitable.
ChatGPT is not the first technology to be hyped as "the next big thing," but it is perhaps unique in simultaneously being hyped as an existential risk. Numerous tech titans and even some AI researchers have warned about the risk of superintelligent AI systems emerging and wiping out humanity, though I believe that these fears are far-fetched.
The media environment favors hype, and the current venture funding climate further fuels AI hype in particular. Playing to people's hopes and fears is a recipe for anxiety with none of the ingredients for wise decision making.
What the future may hold
The AI floodgates opened in 2023, but the next year may bring a slowdown. AI development is likely to meet technical limitations and encounter infrastructural hurdles such as chip manufacturing and server capacity. Simultaneously, AI regulation is likely to be on the way.
This slowdown should give space for norms in human behavior to form, both in terms of etiquette, as in when and where using ChatGPT is socially acceptable, and effectiveness, like when and where ChatGPT is most useful.
ChatGPT and other generative AI systems will settle into people's workflows, allowing workers to accomplish some tasks faster and with fewer errors. In the same way that people learned "to google" for information, humans will need to learn new practices for working with generative AI tools.
But the outlook for 2024 isn't completely rosy. It is shaping up to be a historic year for elections around the world, and AI-generated content will almost certainly be used to influence public opinion and stoke division. Meta may have banned the use of generative AI in political advertising, but this isn't likely to stop ChatGPT and similar tools from being used to create and spread false or misleading content.
Political misinformation spread across social media in 2016 as well as in 2020, and it is virtually certain that generative AI will be used to continue those efforts in 2024. Even outside social media, conversations with ChatGPT and similar products can be sources of misinformation on their own.
As a result, another lesson that everyone – users of ChatGPT or not – will have to learn in the blockbuster technology's second year is to be vigilant when it comes to digital media of all kinds.

Tim Gorichanaz, Assistant Teaching Professor of Information Science, Drexel University
This article is republished from The Conversation under a Creative Commons license. Read the original article.
MicroRNA is the master regulator of the genome − researchers are learning how to treat disease by harnessing the way it controls genes
MicroRNA is the master regulator of the genome − researchers are learning how to treat disease by harnessing the way it controls genes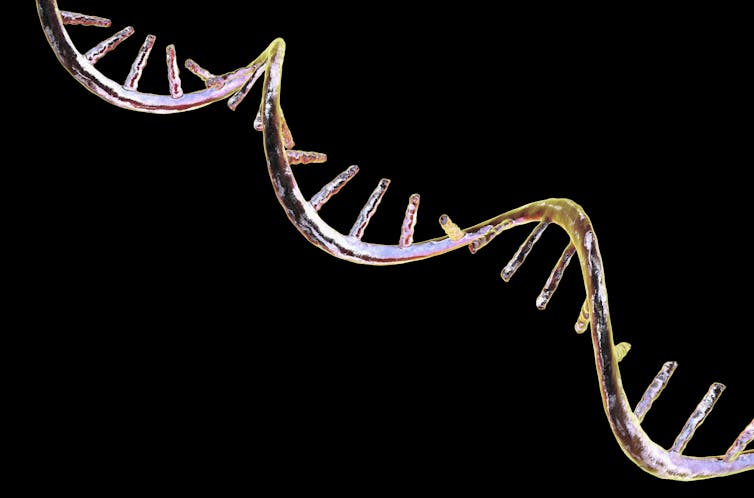 Andrea Kasinski, Purdue University
The Earth formed 4.5 billion years ago, and life less than a billion years after that. Although life as we know it is dependent on four major macromolecules – DNA, RNA, proteins and lipids – only one is thought to have been present at the beginning of life: RNA.
It is no surprise that RNA likely came first. It is the only one of those major macromolecules that can both replicate itself and catalyze chemical reactions, both of which are essential for life. Like DNA, RNA is made from individual nucleotides linked into chains. Scientists initially understood that genetic information flows in one direction: DNA is transcribed into RNA, and RNA is translated into proteins. That principle is called the central dogma of molecular biology. But there are many deviations.
One major example of an exception to the central dogma is that some RNAs are never translated or coded into proteins. This fascinating diversion from the central dogma is what led me to dedicate my scientific career to understanding how it works. Indeed, research on RNA has lagged behind the other macromolecules. Although there are multiple classes of these so-called noncoding RNAs, researchers like myself have started to focus a great deal of attention on short stretches of genetic material called microRNAs and their potential to treat various diseases, including cancer.
MicroRNAs and disease
Scientists regard microRNAs as master regulators of the genome due to their ability to bind to and alter the expression of many protein-coding RNAs. Indeed, a single microRNA can regulate anywhere from 10 to 100 protein-coding RNAs. Rather than translating DNA to proteins, they instead can bind to protein-coding RNAs to silence genes.
The reason microRNAs can regulate such a diverse pool of RNAs stems from their ability to bind to target RNAs they don't perfectly match up with. This means a single microRNA can often regulate a pool of targets that are all involved in similar processes in the cell, leading to an enhanced response.
Because a single microRNA can regulate multiple genes, many microRNAs can contribute to disease when they become dysfunctional.
In 2002, researchers first identified the role dysfunctional microRNAs play in disease through patients with a type of blood and bone marrow cancer called chronic lymphocytic leukemia. This cancer results from the loss of two microRNAs normally involved in blocking tumor cell growth. Since then, scientists have identified over 2,000 microRNAs in people, many of which are altered in various diseases.
The field has also developed a fairly solid understanding of how microRNA dysfunction contributes to disease. Changing one microRNA can change several other genes, resulting in a plethora of alterations that can collectively reshape the cell's physiology. For example, over half of all cancers have significantly reduced activity in a microRNA called miR-34a. Because miR-34a regulates many genes involved in preventing the growth and migration of cancer cells, losing miR-34a can increase the risk of developing cancer.
Researchers are looking into using microRNAs as therapeutics for cancer, heart disease, neurodegenerative disease and others. While results in the laboratory have been promising, bringing microRNA treatments into the clinic has met multiple challenges. Many are related to inefficient delivery into target cells and poor stability, which limit their effectiveness.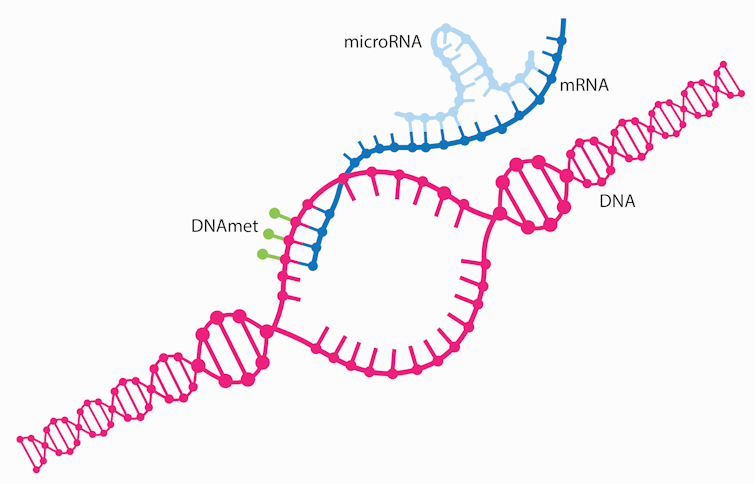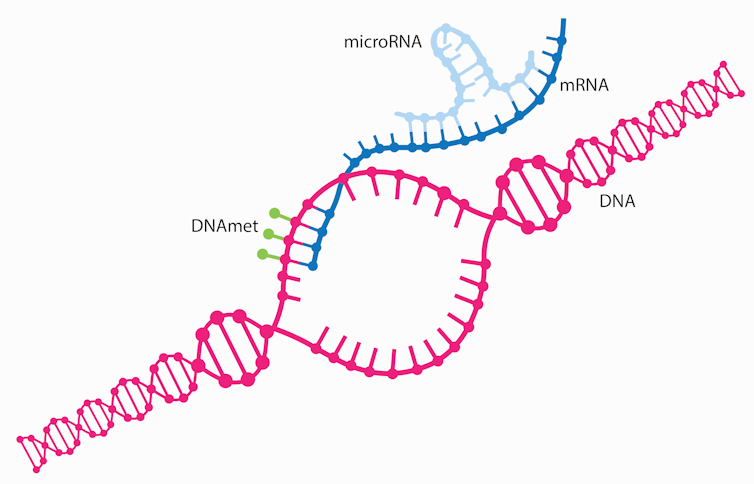 Delivering microRNA to cells
One reason why delivering microRNA treatments into cells is difficult is because microRNA treatments need to be delivered specifically to diseased cells while avoiding healthy cells. Unlike mRNA COVID-19 vaccines that are taken up by scavenging immune cells whose job is to detect foreign materials, microRNA treatments need to fool the body into thinking they aren't foreign in order to avoid immune attack and get to their intended cells.
Scientists are studying various ways to deliver microRNA treatments to their specific target cells. One method garnering a great deal of attention relies on directly linking the microRNA to a ligand, a kind of small molecule that binds to specific proteins on the surface of cells. Compared with healthy cells, diseased cells can have a disproportionate number of some surface proteins, or receptors. So, ligands can help microRNAs home specifically to diseased cells while avoiding healthy cells. The first ligand approved by the U.S. Food and Drug Administration to deliver small RNAs like microRNAs, N-acetylgalactosamine, or GalNAc, preferentially delivers RNAs to liver cells.
Identifying ligands that can deliver small RNAs to other cells requires finding receptors expressed at high enough levels on the surface of target cells. Typically, over one million copies per cell are needed in order to achieve sufficient delivery of the drug.
One ligand that stands out is folate, also referred to as vitamin B9, a small molecule critical during periods of rapid cell growth such as fetal development. Because some tumor cells have over one million folate receptors, this ligand provides sufficient opportunity to deliver enough of a therapeutic RNA to target different types of cancer. For example, my laboratory developed a new molecule called FolamiR-34a – folate linked to miR-34a – that reduced the size of breast and lung cancer tumors in mice.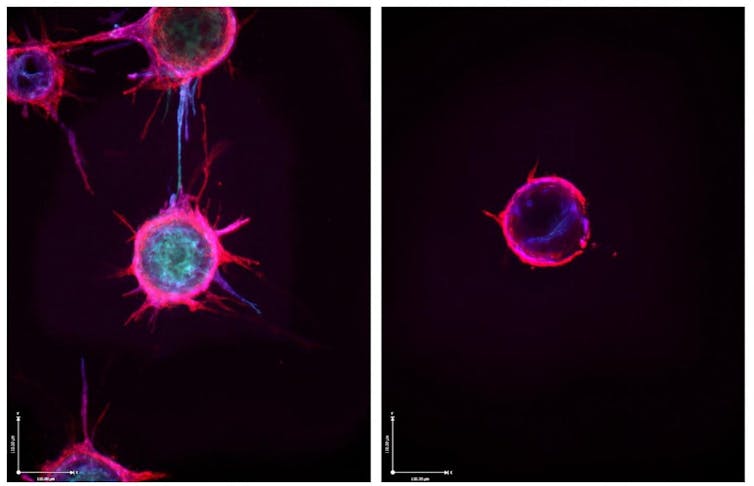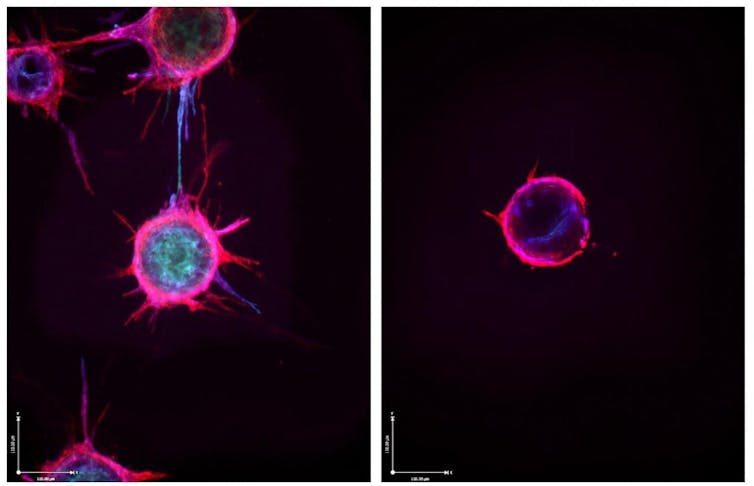 Making microRNAs more stable
One of the other challenges with using small RNAs is their poor stability, which leads to their rapid degradation. As such, RNA-based treatments are generally short-lived in the body and require frequent doses to maintain a therapeutic effect.
To overcome this challenge, researchers are modifying small RNAs in various ways. While each RNA requires a specific modification pattern, successful changes can significantly increase their stability. This reduces the need for frequent dosing, subsequently decreasing treatment burden and cost.
For example, modified GalNAc-siRNAs, another form of small RNAs, reduces dosing from every few days to once every six months in nondividing cells. My team developed folate ligands linked to modified microRNAs for cancer treatment that reduced dosing from once every other day to once a week. For diseases like cancer where cells are rapidly dividing and quickly diluting the delivered microRNA, this increase in activity is a significant advancement in the field. We anticipate this accomplishment will facilitate further development of this folate-linked microRNA as a cancer treatment in the years to come.
While there is still considerable work to be done to overcome the hurdles associated with microRNA treatments, it's clear that RNA shows promise as a therapeutic for many diseases.

Andrea Kasinski, Associate Professor of Biological Sciences, Purdue University
This article is republished from The Conversation under a Creative Commons license. Read the original article.
Did you miss our previous article…
https://www.biloxinewsevents.com/?p=309339