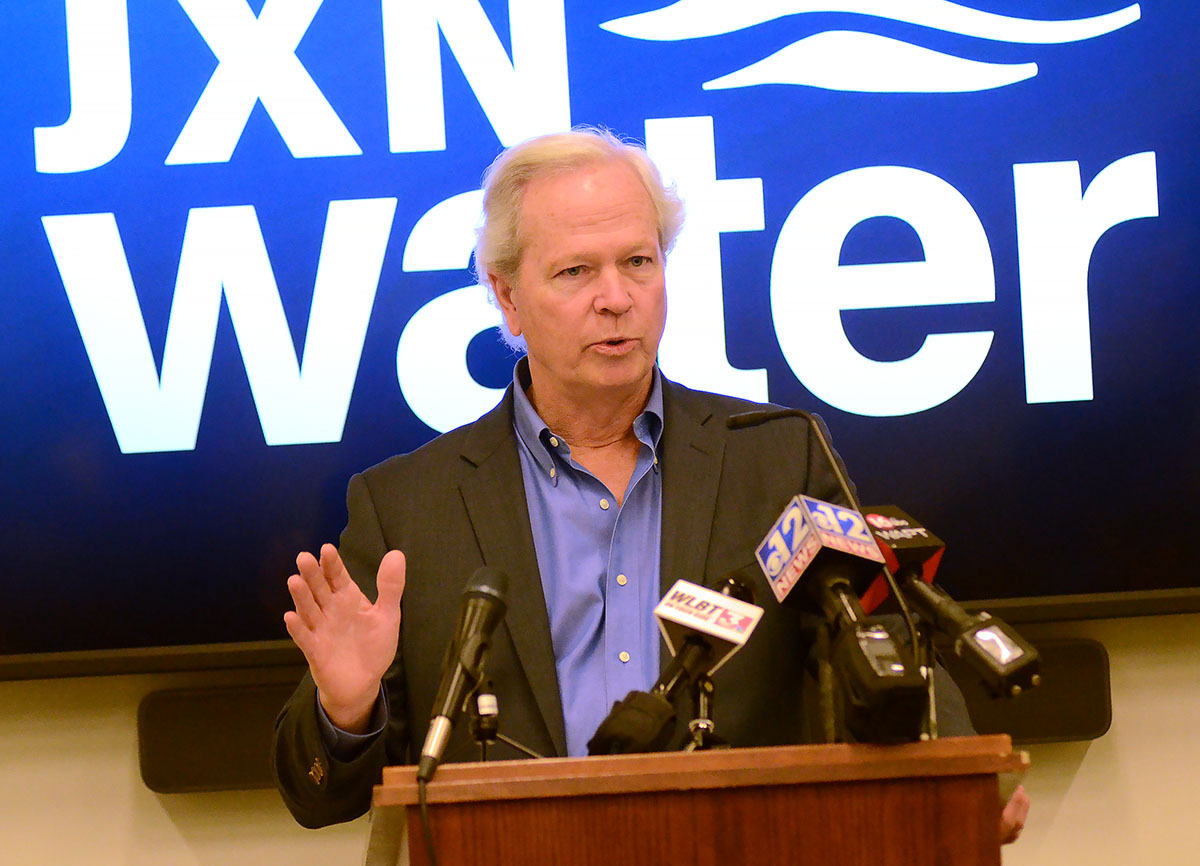 'There's a hunger to see if we can pull this off': Henifin talks next steps for funding Jackson water
Jackson water head Ted Henifin said Friday he would recommend to extend federal oversight of the city's water system to five years, allowing his team to make the necessary infrastructure improvements using recently allocated federal funds.
During a press conference where he discussed his financial proposal for future funding of the city's water system, Henifin also said a bill now before the Legislature may put a roadblock in the way of his planned changes to the water billing system.
Henifin emphasized that Jackson's infrastructure is still in a place where the system could "fail tomorrow," but that the roughly $800 million coming to Jackson will be enough to address the city's issues as long as it can have a stable revenue plan moving forward.
"I'd say, yes, the (roughly) $1 billion is enough, once we're on a good foundation moving forward," he said.
His press conference Friday came hours after submitting a financial proposal to a federal judge. Henifin will spend the next few months receiving feedback from the public, with the goal of having a new revenue model to fund the water system in place on Oct. 1.
It also comes at the end of week where bills that would affect his billing plans and wrest control of the water system were making their way through the Legislature.
New state bill could thwart changes to billing model
Henifin acknowledged Friday that he's proposing a billing structure for residents based on customer's property value rather than how much water a customer consumes, an idea aimed at restoring trust in the billing system and keeping rates affordable.
He explained that the median single family household would pay about $50 a month for water and sewer, similar to what that home would be paying now. In another example he gave, someone with a $100,000-valued property would be paying about $100 a month.
Bills would be capped at $150 a month for residential properties, he said, and at $600 for commercial properties.
As far as he knew, the only other utility in the country with such a model is Milwaukee with its wastewater system. He added that cities across the nation are looking to revamp their billing structures because traditional systems are making services unaffordable for poorer residents. Those places, he explained, will be paying close attention to how such a change would work in Jackson.
"There's going to be a big hunger to see if we can pull this off and find a better way to do it," Henifin said.
While some water policy experts believe bills should have some connection to residents' consumption to not strain a city's infrastructure, Henifin said the city is losing so much water as it is — 25 million to 30 million gallons a day, or at least half of the 50 million gallons a day the city can produce — that consumption isn't a concern.
"There's no amount of conservation that our residents could do to make up for the amount we're losing," he said. "If (Jacksonians) decide to run their sprinklers all day and take half hour showers every morning, it's not going to make a difference compared to the mountain of water we're losing."
Per the recommendation of the state Health Department, Jackson has placed residents under a water conservation advisory since last summer.
The bigger concern, Henifin explained, is making sure the city has reliable revenue through its billing system, which has been plagued for years by faulty metering. That money, along with the recent federal funds, will go to upgrade the fragile water lines that are causing the city to lose so much of its water.
He added that a new hydraulic model for the city, which is near completion, will help show where the city's leaks are. Because the city doesn't have a model, "we've got little knowledge of what happens" when water leaves the two treatment plants, he said.
But changes to the city's billing could be put on hold if state lawmakers have their way. On Thursday, the Senate approved a bill that would require cities to charge customers for water based on their consumption.
While the U.S. Department of Justice order appointing Henifin gave him broad authority, he clarified that it doesn't allow him to violate state law, and that if the he bill is signed by Gov. Tate Reeves he may have to reconsider the plan.
When asked what it would mean for ratepayers if the city sticks to a consumption-based system, he said rates would have to go up 50% to generate the necessary revenue for the city. He added that some homes would see an increase in their bills with his proposal as well.
Bill that would shrink Jackson's control
Henifin was also asked about another bill, which passed through a Senate committee on Tuesday, that would create a nine-member board to oversee Jackson's water system when the DOJ lifts its current order; five of the appointments would be made by the governor and lieutenant governor, and just four would come from the Jackson's mayor, effectively removing control from the city's leadership.
The bill would also require the board to consult with the mayors of Byram and Ridgeland, despite the latter having sparse property that's served by Jackson water.
Henifin in an interview with WLBT on Wednesday called the plan a "pure grab for money".
Part of the DOJ order gives Henifin the ability to recommend how Jackson manages the water system moving forward. While not directly addressing the Senate proposal, Henifin said he'll recommend that the DOJ extend its oversight of the water system to five years, giving his team enough time to spend the new federal funding.
He added that one option that he thinks "may have some merit" is creating a board-led nonprofit that could procure contracts more quickly than what is allowed for a municipal government.
Climbing out of debt
Henifin began Friday's briefing discussing Jackson's debt. With a poor credit rating and no cash on hand, the city would struggle to borrow any money for its water system as things stand today, he explained. Right now, the city is having to pay back $23 million a year towards its debt.
The goal, he said, is to get Jackson to a point where it can borrow money if it needs to. To do that, Henifin said he's planning to spend $290 million of the $450 million provided by Congress for capital improvements to eliminate the city's debt.
He said that doing so will still leave enough money to make the necessary infrastructure upgrades, especially when factoring in the city's projected revenue that would come with his financial proposal.
"In five years, we'd be generating $20 million a year in capital improvement money that could go back into our system year after year after year," Henifin said. "And the rates will be affordable across the population in Jackson. So I don't think we can hit a bigger home run than that."
This article first appeared on Mississippi Today and is republished here under a Creative Commons license.
Did you miss our previous article…
https://www.biloxinewsevents.com/?p=205534