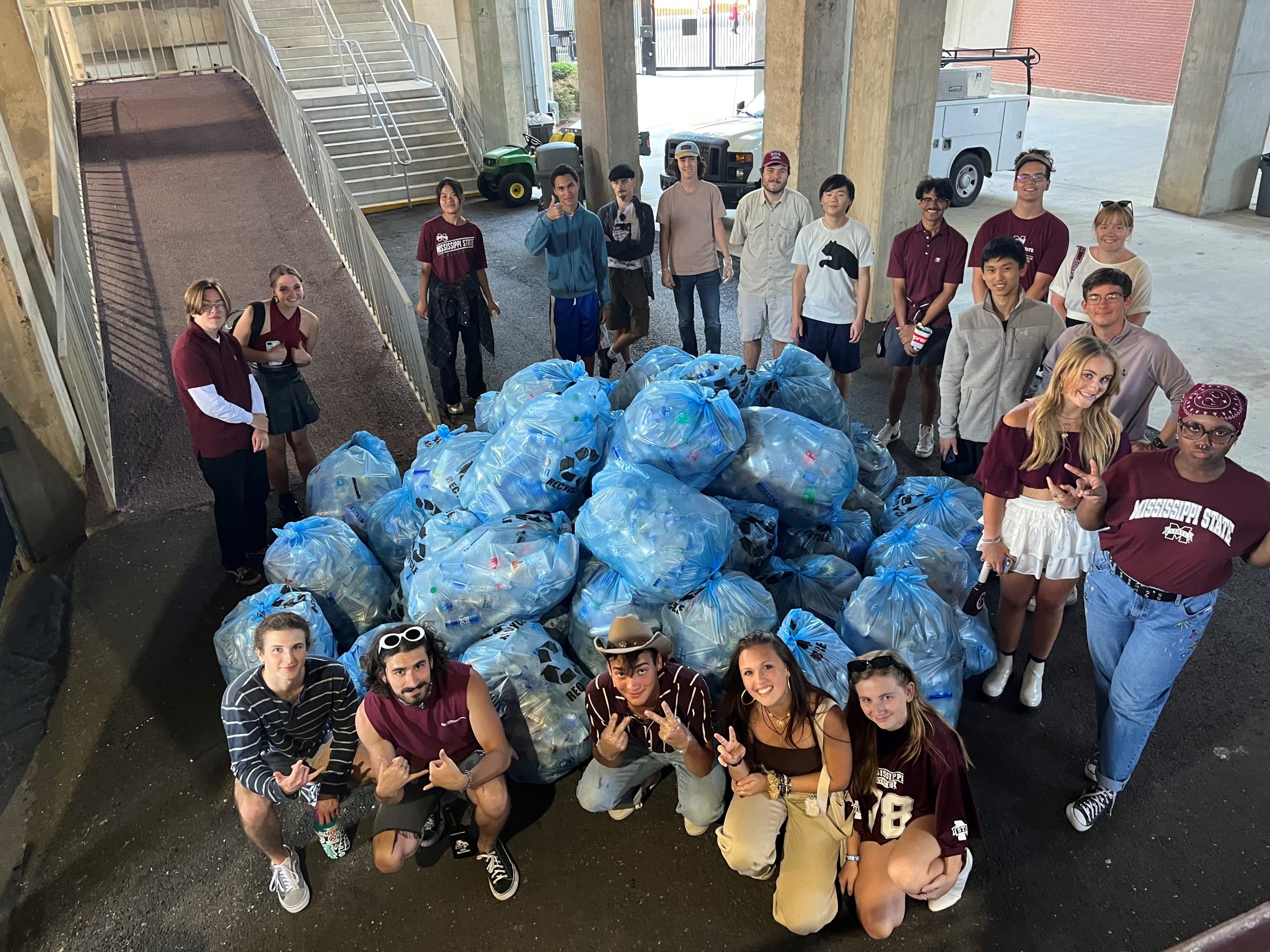 'Put some pressure on us': Starkville alderman, MSU students push for curbside recycling
Starkville Alderman Hamp Beatty repeatedly called out his fellow board members on Tuesday night for not working with him on reviving the city's curbside recycling service.
"I keep coming back to this point, and this includes the mayor: It's very obvious that we're looking for a way not to do this," Beatty said during Tuesday's Board of Aldermen meeting, before asking the public: "Please put some pressure on us, because there is no appetite up here to do curbside recycling."
Backing a recent push from a group of Mississippi State University students, Beatty presented a proposal where Starkville residents could opt-in to curbside recycling through a $6-per-month fee for twice-a-month pickup. The alderman, emphasizing the long-term need to reduce landfill waste, apologized to the students in attendance Tuesday night on behalf of the board.
"I'm almost 68 years old, I won't be around a lot longer, and these storms and flooding that climate scientists are telling us is carbon emissions and us polluting our atmosphere, you're going to have to inherit that stuff from us, and I'm sorry," he said. "We've just fiddled around with it, and you're going to have to pick up the pieces."
The remaining six aldermen were hesitant in discussing the proposal, calling for more financial projections. Alderman and Vice-Mayor Roy A' Perkins said bluntly, "we don't have the funds."
"I cannot vote for this," Perkins said. "This is something that has a very big cost to it, and I don't see this as having a very high priority for our city."
Like many cities across the country in recent years, Starkville cut its curbside recycling service in 2020 after the demand for buying recycled materials plummeted. The market for buying recycled waste floundered in the U.S. after China in 2018 banned importing recycled materials that weren't thoroughly cleaned.
Yet some cities have brought back curbside recycling. Oxford, for instance, now has 40% participation among its residents after briefly cutting the service during the earlier stages of the COVID-19 pandemic. In fact, according to the MSU group Students for a Sustainable Campus, Starkville is the only city with a Southeastern Conference school to not offer the service.
Alderwoman and budget chair Sandra Sistrunk said she believes the monthly fee for an opt-in program should be closer to $15 to $20 a month, instead of $6, to cover all the of the associated costs, such as hauling, labor and equipment. Sistrunk said that a contracted recycling vendor would be more practical for the city.
Beatty calculated that a Waste Pro facility in Columbus could take on the city's recyclables for about $1,200 a month, and just 250 customers would more than cover those costs. He admitted after that if the number of customers grew to 800 or 1,000 that the city would need to re-work the program to pay for more equipment.
The city offers twice-a-week garbage pickup. One alternative, Beatty suggested, would be to replace one of those days with recycling pickup, which he said would cover the costs of the service by freeing up money from the garbage side.
While Starkville does offer a drop-off location for residents to recycle, the service is only open from 7 A.M. to 4 P.M. during weekdays, and from 9 A.M. to 1 P.M. on the first Saturday every month. Some residents told the board Tuesday that the drop-off system is inconvenient because of the hours and that the bins often fill up.
Emma Van Epps, president of Students for a Sustainable Campus, said her group surveyed over 300 Starkville residents, and over 90% of the respondents said they would be willing to pay $6 a month for curbside recycling.
"If you enjoy fishing and hunting, and spending time outdoors with children or grandchildren, then why would we not take the steps right now to preserve the beautiful natural resources that we have outside of Starkville that we advertise to potential visitors and potential residents? " Van Epps asked the board Tuesday.
Van Epps' group, which has worked to promote sustainability on MSU's campus for about a decade, raised the issue in October during its climate march, where it brought a list of requests to Starkville's city hall that included bringing back curbside recycling. The group then connected with Beatty to raise the issue with the Board of Aldermen, which would have to vote on whether or not to bring back the service.
"I feel responsible because I have a 5-year-old grandson," Beatty told Mississippi Today, "and when I look at him I think, gosh, I don't want him one day, when he's 20 years old, to think, 'Pop why didn't you do something when you had the opportunity?'"
This article first appeared on Mississippi Today and is republished here under a Creative Commons license.
Did you miss our previous article…
https://www.biloxinewsevents.com/?p=204451