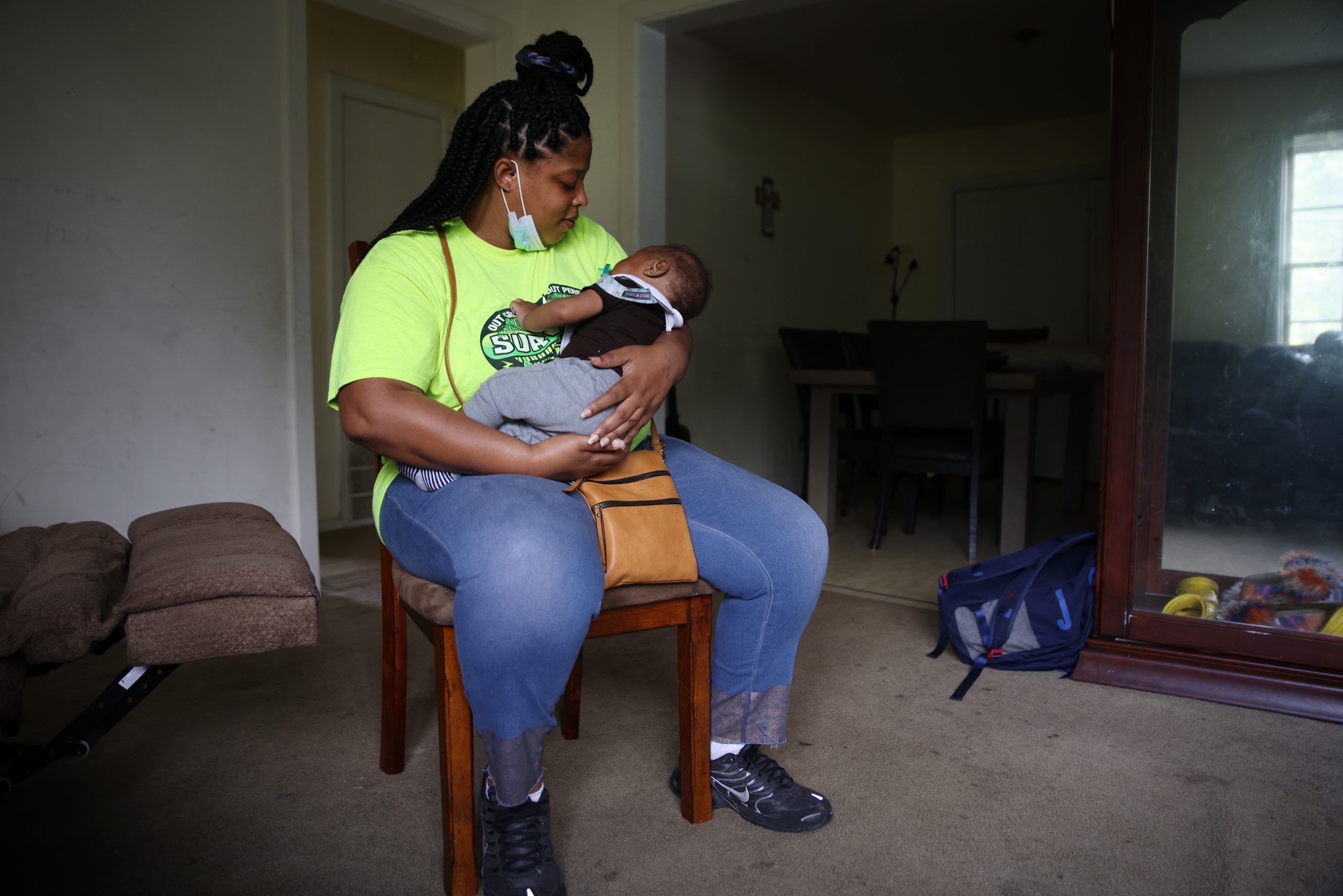 A look inside one Mississippi mom's life a year after giving birth
HEIDELBERG – It's 1 a.m. and Heidelberg native Courtney Darby, a mother of four, is sound asleep in her room with part of her leg wrapped in a cast due to a broken ankle. She is suddenly awakened by the sound of her 8-month-old son, R'Jay Jones, crying.
Her daughter, Deysha Ransom, 13, who is sleeping in the room next door, wakes up and springs into action. She brings R'Jay to Darby, who breastfeeds him until he falls asleep. Deysha returns R'Jay to his room, and everyone goes back to sleep.
April-May
Darby relies heavily on her daughter, who is now 14, to help with her son since she broke her ankle in May when R'Jay was 5 months old.
"My oldest daughter is the real MVP," Darby said. "She does a lot because she understands my issues. During that time, it's like she was experiencing what it was like being a mother."
The accident happened when she was getting out of her SUV to go to work. The side step bar didn't extend as usual, and her foot landed hard on the ground, twisting her ankle. She was taken to the hospital, where her ankle was treated and wrapped in a cast.
She went to surgery for pins and a plate to be placed in her ankle several days later on a Monday. The following Friday, she went to her doctor in Laurel, and she told him she was in extreme pain.
"He said it was normal," Darby said.
June
The following week, on June 3, she went back to the doctor to tell him about the continued pain and how tight the cast was on her ankle.
"When they took the cast off, the doctor noticed drainage in my ankle," she said. She left with a prescription for antibiotics.
But the pain medicine she got at the hospital was not giving her any relief.
"I went through pain that I never imagined," Darby said.
Her mom, who is a nurse, noticed that the pain was abnormal. They called the hospital several times a week seeking answers. During a visit on July 15, the doctor denied her pain medication, citing the laws surrounding narcotics.
Tears began to roll down her cheek, and her voice cracked as she told him about her pain – including that it was so severe, she considered ending her life.
She went to the doctor about six times before she was finally diagnosed in early August with osteomyelitis, an inflammation in her bone that resulted in infection.Luckily, she was diagnosed and treated around the time she was expected back at her job as a teacher at Bay Springs High School.
July
Before her ankle injury, she dealt with postpartum depression. She started to receive counseling about three months after giving birth to R'Jay.
"That was a fight with the devil," Darby said. "Sometimes it was very much so getting the best of me. I didn't want to get out of bed or comb my hair."
She was breastfeeding, so she had to push through, she said.
In January, right after giving birth to R'Jay, she received a letter stating that her Medicaid coverage would stop in February. Then, Medicaid sent another letter saying it would be reinstated due to the COVID-19 public health emergency. She had secondary insurance through her job as well.
September
But even with Medicaid and her insurance, she still received medical bills that amounted to thousands of dollars.
"I don't understand why I have to pay this much money out of pocket when I have Medicaid coverage and secondary insurance," Darby said.
Darby's story isn't unique. She is one of many women in Mississippi who feels she is being pulled close to the ground.
Specifically, Black women in the state deal with more health disparities than any other state in the country. A recent report from the state health department showed Black women in Mississippi are four times more likely to die in childbirth than their white counterparts.
The state has also not extended postpartum Medicaid coverage for women as most other states have done.
This is Darby's story.
October -December
This article first appeared on Mississippi Today and is republished here under a Creative Commons license.