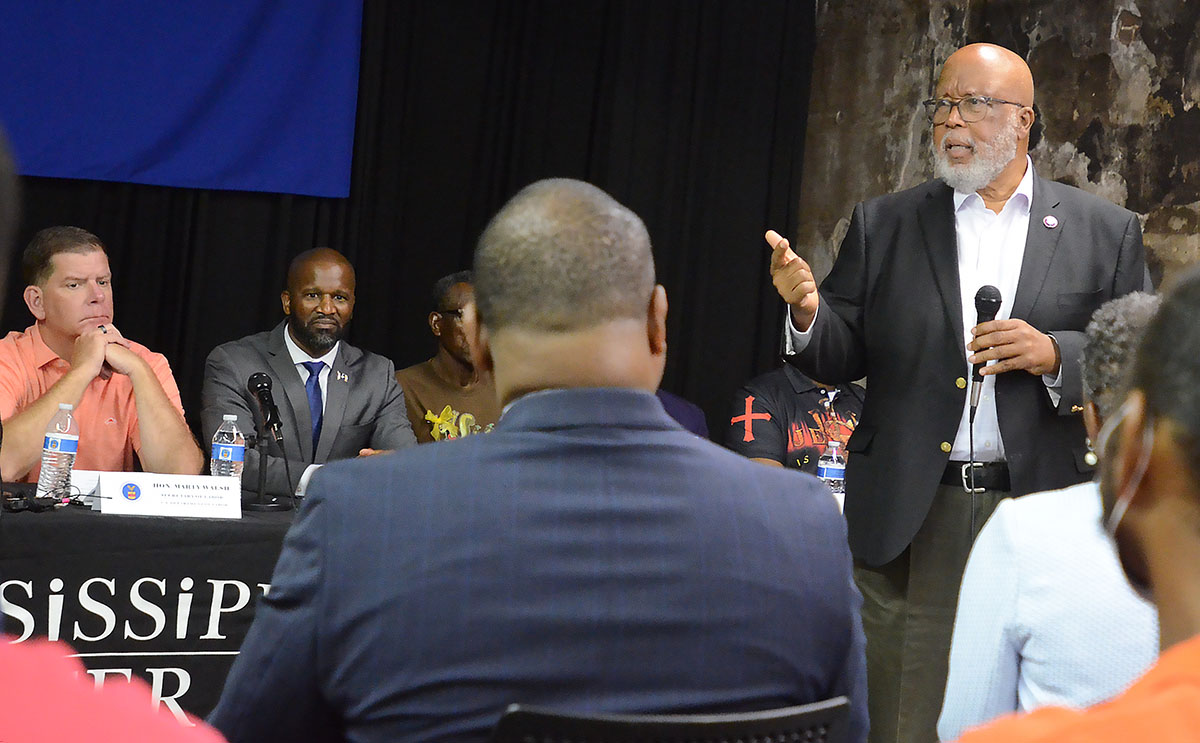 Rep. Bennie Thompson endorses Brandon Presley in governor's race
U.S. Rep. Bennie Thompson, Mississippi's longest serving congressional delegate and only Democrat in Washington, endorsed Brandon Presley on Thursday — the same day Presley announced his candidacy for governor.
READ MORE: Democrat Brandon Presley is running for governor
An endorsement from Thompson, who is selective about such moves, is notable. He sat out the 2019 governor's race, when former Democratic Attorney General Jim Hood lost to now-Gov. Tate Reeves, a Republican. Thompson's direct endorsement typically carries weight with Black Democrats, who make up a majority of the state's traditionally Democratic electorate.
Presley, a Democrat who has served as a public service commissioner since 2007, has developed a close working relationship with Thompson over the past several years. They've worked particularly closely together in recent weeks on finding solutions for the Jackson water crisis.
"Right now, our state is in desperate need of a leader who will put the people first and stamp out corruption, not embrace it," Thompson said in a Thursday statement. "A leader who will be a partner in fixing the Jackson water crisis, not turn a blind eye to it. And someone that will lower the cost of healthcare and fight for a better education for all of our kids."
Presley, who announced earlier Thursday that he is running for governor, is among the most notable Democrats to run for the state's highest office this century, and his candidacy is expected to inspire one of the most expensive and bitter campaigns in state history.
The 45-year-old Nettleton native launched his gubernatorial campaign and introduced himself to many Mississippians this week with a three-minute video that includes a blistering critique of Reeves, the first-term Republican who announced last week he will seek reelection.
Advisers close to Presley hope his background, demeanor and ideas appeal to many Mississippians, not just Democrats. A relative of legendary performer Elvis, Presley speaks in a deep Southern drawl. He was raised in a small town by a single mother who worked in a factory while struggling to pay bills, and he has long dwelled on those early life lessons in his public life.
Presley believes he has a compelling case to make to every Mississippi voter, including Republicans. A political moderate who self describes as pro-life and pro-Second Amendment, he's worked closely and successfully with GOP officials. As Nettleton mayor from 2001-2007, he championed tax cuts and brought in jobs and infamously crossed over to vote for Republican George W. Bush in the 2004 presidential election. Several high-profile Republicans have given to his campaign in recent weeks, including a handful of members of Reeves' 2019 gubernatorial campaign finance committee.
But while Presley courts support from independent or right-leaning voters, his principal task will be shoring up support from loyal Mississippi Democrats, who traditionally make up between 40-45% of the state's electorate. About 75% of the state's Democratic base of voters are Black, and Presley will have to speak to and appeal to them — a failed objective for many recent white statewide Democrats.
Thompson's speedy endorsement could prove important to his 2023 chances.
"Mississippians deserve a leader who cares," Thompson said in the statement. "That's who Brandon Presley is, it's exactly what he will do and why he has my support."
This article first appeared on Mississippi Today and is republished here under a Creative Commons license.
Did you miss our previous article…
https://www.biloxinewsevents.com/?p=203931